 Realms of Fantasy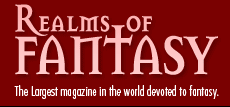 Realms of Fantasy
is a professional bimonthly
fantasy
Fantasy
Fantasy is a genre of fiction that commonly uses magic and other supernatural phenomena as a primary element of plot, theme, or setting. Many works within the genre take place in imaginary worlds where magic is common...
speculative fiction magazine published by Damnation Books, which specializes in fantasy, nonfiction, and art. The magazine publishes short stories by some of the genre's most popular and most prominent authors. Its original publisher was Sovereign Media, and it first launched with the October 1994 issue.
On January 27, 2009, the magazine's managing editor under Sovereign Media announced that Realms of Fantasy would cease publication after the April 2009 issue. The closure was blamed on "plummeting newsstand sales, the problem currently faced by all of the fiction magazines."
In March 2009,
SFScope
SFScope
SFScope is an online trade journal devoted to entertainment news concerning speculative fiction, science fiction, fantasy, and horror. It was founded by Ian Randal Strock in early 2007....
reported that the magazine had been bought by
Warren Lapine
Warren Lapine
Warren Lapine is known for his publishing efforts, particularly with his first company, DNA Publications, which published a range of magazines including Absolute Magnitude, Dreams of Decadence, Fantastic Stories, Mythic Delirium, The Official KISS Magazine, Science Fiction Chronicle, and Weird...
's Tir Na Nog Press and will not close. Publication restarted with a release date in July 2009, missing at least one issue (May 2009). The fiction editorial staff did not change.
Douglas Cohen was promoted to Editor in November 2009, and was previously Assistant (Fiction) Editor [May 2005], and had assumed roles of Nonfiction Editor and Art Director in March 2009.
Shawna McCarthy
Shawna McCarthy
Shawna Lee McCarthy is an American science fiction and fantasy editor and literary agent. She is married to science fiction artist Wayne Douglas Barlowe....
has been the Fiction Editor since the magazine's inception in 1994.
In October 2010, Lapine announced plans to shut down the magazine, with the final issue (December 2010) made available to subscribers online. However, a month later the magazine was sold to small press publisher Damnation Books , which resumed publication without a significant hiatus. In November 2011, William and Kim Gilchrist of Damnation Books LLC announced that publication of the magazine would end with the October 2011 issue.
See also
Science fiction magazine

Science fiction magazine

A science fiction magazine is a publication that offers primarily science fiction, either in a hard copy periodical format or on the Internet....



Fantasy fiction magazine
Horror fiction magazine

Horror fiction magazine

A horror fiction magazine is a magazine that publishes primarily horror fiction with the main purpose of scaring or frightening the reader. Horror magazines can be in print, on the internet, or both.-Defunct magazines:*The Arkham Collector...



Magazine

Magazine

Magazines, periodicals, glossies or serials are publications, generally published on a regular schedule, containing a variety of articles. They are generally financed by advertising, by a purchase price, by pre-paid magazine subscriptions, or all three...



External links