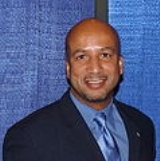 Ray Nagin
Clarence Ray Nagin, Jr.
is a former mayor of New Orleans,
Louisiana
Louisiana
Louisiana is a state located in the southern region of the United States of America. Its capital is Baton Rouge and largest city is New Orleans. Louisiana is the only state in the U.S. with political subdivisions termed parishes, which are local governments equivalent to counties...
, United States. Nagin gained international note in 2005 in the aftermath of
Hurricane Katrina
Hurricane Katrina
Hurricane Katrina of the 2005 Atlantic hurricane season was a powerful Atlantic hurricane. It is the costliest natural disaster, as well as one of the five deadliest hurricanes, in the history of the United States. Among recorded Atlantic hurricanes, it was the sixth strongest overall...
, which devastated the New Orleans area.
Nagin was first elected on March 2, 2002, to succeed his fellow
Democrat
Democratic Party (United States)
The Democratic Party is one of two major contemporary political parties in the United States, along with the Republican Party. The party's socially liberal and progressive platform is largely considered center-left in the U.S. political spectrum. The party has the lengthiest record of continuous...
Marc Morial
Marc Morial
Marc Haydel Morial is an American political and civic leader and the current president of the National Urban League. Morial served as mayor of New Orleans, Louisiana from 1994 to 2002. He is married to Michelle Miller, who has won awards as a CBS News Correspondent.- Early life and educations...
. He was re-elected in 2006 but was ineligible to seek a third term in 2010 due to term limits and stepped down from office on May 3, 2010.
Nagin was born on June 11, 1956, in New Orleans' Charity Hospital, to a low-income family.
They thinking small, man, and this is a major, major deal.

Interview with New Orleans radio station WWL, September 1, 2005
Get off your asses and let's do something.

Interview with New Orleans radio station WWL, September 1, 2005
You know, I'm sure I could have done a lot of things much better, but I will tell you this, Tim: I was there.

Transcript for September 11, Ray Nagin, Arlen Specter, John Barry & Ivor van Heerden
I think I did everything possible known to any mayor in the country as it relates to saving lives.

Transcript for September 11, Ray Nagin, Arlen Specter, John Barry & Ivor van Heerden