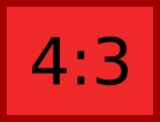 Ratio
In
mathematics
Mathematics
Mathematics is the study of quantity, space, structure, and change. Mathematicians seek out patterns and formulate new conjectures. Mathematicians resolve the truth or falsity of conjectures by mathematical proofs, which are arguments sufficient to convince other mathematicians of their validity...
, a
ratio
is a relationship between two numbers of the same kind (
i.e.
, objects, persons, students, spoonfuls, units of whatever identical dimension), usually expressed as
"a
to
b"
or a:b, sometimes expressed arithmetically as a dimensionless
quotient
Quotient
In mathematics, a quotient is the result of division. For example, when dividing 6 by 3, the quotient is 2, while 6 is called the dividend, and 3 the divisor. The quotient further is expressed as the number of times the divisor divides into the dividend e.g. The quotient of 6 and 2 is also 3.A...
of the two which explicitly indicates how many times the first number contains the second (not necessarily an
integer
Integer
The integers are formed by the natural numbers together with the negatives of the non-zero natural numbers .They are known as Positive and Negative Integers respectively...
).
In layman's terms a ratio represents, simply, for every amount of one thing, how much there is of another thing.