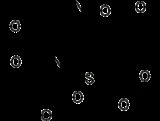 Ranelic acid
Ranelic acid
is an
organic acid
Organic acid
An organic acid is an organic compound with acidic properties. The most common organic acids are the carboxylic acids, whose acidity is associated with their carboxyl group –COOH. Sulfonic acids, containing the group –SO2OH, are relatively stronger acids. The relative stability of the conjugate...
capable of
chelating
Chelation
Chelation is the formation or presence of two or more separate coordinate bonds between apolydentate ligand and a single central atom....
metal cations.
It forms the ranelate ion, C
12
H
6
N
2
O
8
S
4-
.
Strontium ranelate
Strontium ranelate
Strontium ranelate, a strontium salt of ranelic acid, is a medication for osteoporosis marketed as Protelos or Protos by Servier. It is unusual in the sense that it both increases deposition of new bone osteoblasts and reduces the resorption of bone by osteoclasts...
, made by combining
strontium
Strontium
Strontium is a chemical element with the symbol Sr and the atomic number 38. An alkaline earth metal, strontium is a soft silver-white or yellowish metallic element that is highly reactive chemically. The metal turns yellow when exposed to air. It occurs naturally in the minerals celestine and...
with ranelic acid, is a drug used to treat
osteoporosis
Osteoporosis
Osteoporosis is a disease of bones that leads to an increased risk of fracture. In osteoporosis the bone mineral density is reduced, bone microarchitecture is deteriorating, and the amount and variety of proteins in bone is altered...
and increase bone mineral density (BMD).