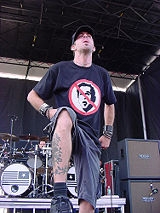 Randy Blythe
David Randall "Randy" Blythe
(born February 21, 1971) is the vocalist of American
groove metal
Groove metal
Groove metal is a subgenre of heavy metal. It was often used to describe Pantera and Exhorder.- Characteristics and origins :Pantera's Cowboys from Hell album from 1990 was described as "groundbreaking" and "blueprint-defining" for the groove metal genre...
band
Lamb Of God
Lamb of God (band)
Lamb of God is an American heavy metal band from Richmond, Virginia. Formed in 1994, the group consists of vocalist Randy Blythe, guitarists Mark Morton and Willie Adler, bassist John Campbell, and drummer Chris Adler...
and side-project band Halo of Locusts. He is known as D. Randall Blythe on Lamb of God's albums.
As a teenager, he looked up to the
Sex Pistols
Sex Pistols
The Sex Pistols were an English punk rock band that formed in London in 1975. They were responsible for initiating the punk movement in the United Kingdom and inspiring many later punk and alternative rock musicians...
, Misfits and
Bad Brains
Bad Brains
Bad Brains is an American hardcore punk band formed in Washington, D.C., in 1977. They are widely regarded as among the pioneers of hardcore punk, though the band's members objected to this term to describe their music. They are also an adept reggae band, while later recordings featured elements of...
.
In 2005, he worked with the metalcore outfit
A Life Once Lost
A Life Once Lost
A Life Once Lost is an American metalcore band formed in 1999 in a suburb of Philadelphia, Pennsylvania. After releases on Robotic Empire and Deathwish Inc., A Life Once Lost released their successful album, Hunter on Ferret Music in 2005...
on their album
Hunter
Hunter (album)
Bonus Videos on CD/DVD Rerelease#With Pitiless Blows#Hunter#Vulture#Rehashed#Surreal AtrocitiesThe Japanese Edition also contains a Bonus Track.-Personnel:Band members*Robert Meadows – lead vocals*Robert Carpenter – guitar, keyboard...
. He provided additional vocals on the track "Vulture" as well as helped in the vocal processing of the track.
Im not a musician, Im a screamer.

I sit at home by myself, with my headphones, in Randy world, and thats it.

During the musical writing process.
I want you to pretend this is fucking Braveheart|Braveheart or some shit.

Hellfest|Hellfest 2003
Whoever appeals to the law against his fellow man is either a fool or a coward. Whoever can not take care of them self without that law is both. For a wounded man shall say to his assailant; if I live, I will kill you, if I die, you are forgiven. Such is the rule of honor.

Opening to 'Omerta', from the album Ashes Of The Wake Category:Musicians|Blythe, Randy