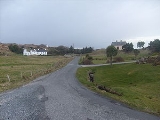 Ranafast
Rann na Feirste
is a village and
townland
Townland
A townland or bally is a small geographical division of land used in Ireland. The townland system is of Gaelic origin—most townlands are believed to pre-date the Norman invasion and most have names derived from the Irish language...
in
Na Rosa
The Rosses
The Rosses is a geographical and social region in the west of County Donegal, Ireland, centred around the town of Dungloe, which acts as the educational, shopping and civil centre for the area...
(known unofficially in English as
The Rosses
) region of northwest
County Donegal
County Donegal
County Donegal is a county in Ireland. It is part of the Border Region and is also located in the province of Ulster. It is named after the town of Donegal. Donegal County Council is the local authority for the county...
,
Ireland
Ireland
Ireland is an island to the northwest of continental Europe. It is the third-largest island in Europe and the twentieth-largest island on Earth...
.
The
Irish language
Irish language
Irish , also known as Irish Gaelic, is a Goidelic language of the Indo-European language family, originating in Ireland and historically spoken by the Irish people. Irish is now spoken as a first language by a minority of Irish people, as well as being a second language of a larger proportion of...
is the main spoken language by most of the locals; it is a
Gaeltacht
Gaeltacht
is the Irish language word meaning an Irish-speaking region. In Ireland, the Gaeltacht, or an Ghaeltacht, refers individually to any, or collectively to all, of the districts where the government recognises that the Irish language is the predominant language, that is, the vernacular spoken at home...
area.
Famous locals include writers
Séamus Ó Grianna
Séamus Ó Grianna
Séamus Ó Grianna was an Irish writer, who used the pen name Máire. Born into a family of poets and storytellers in Ranafast, County Donegal, he attended local primary school until the age of 14. He spent several years at home and as a seasonal worker in Scotland. He attended an Irish language...
and
Seosamh Mac Grianna
Seosamh Mac Grianna
Seosamh Mac Grianna was an Irish writer, in his early career under the pen-name Iolann Fionn. He was born into a family of poets and storytellers, which included his brothers Séamus Ó Grianna and Seán Bán Mac Grianna, in Ranafast, County Donegal, at a time of linguistic and cultural...
, and musicians Skara Brae. Another, highly regarded singer from the
seán nós
tradition living in Rannafast is Connie Mhary Mhicí Ó Gallchóir.
Rann na Feirste is a Gaeltacht area and every summer it is filled with thousands of students from other parts of Ireland who come to the area, stay with local families and improve their Irish language skills. The Irish college in the area is called
Coláiste Bhríde
(or
Coláiste Bhríghde
, or
St. Brigid's College
in English).
Ranafast is also famous for its marching band. Founded in 1976, the band went on to win many titles at local provincial and national level. The band won Fleadh Cheoil na hÉireann on 3 occasions. They were also declared champion of champions in 1989 when they received 100 out 100. In 1997 they were declared Champions of Ireland in classical music. The band broke up in 2000 but reformed again in 2008.