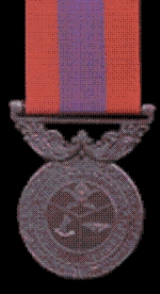 Rana Sura Padakkama
The
Rana Sura Padakkama
(Combat Excellence Medal) (Sinhala: raṇa śūra padakkama) is a
medal
Medal
A medal, or medallion, is generally a circular object that has been sculpted, molded, cast, struck, stamped, or some way rendered with an insignia, portrait, or other artistic rendering. A medal may be awarded to a person or organization as a form of recognition for athletic, military, scientific,...
presented to members of all
rank
Military rank
Military rank is a system of hierarchical relationships in armed forces or civil institutions organized along military lines. Usually, uniforms denote the bearer's rank by particular insignia affixed to the uniforms...
s of the Military of Sri Lanka for individual and/or associated acts of
heroism
Hero (Title)
The title of Hero is presented by various governments in recognition of acts of self-sacrifice to the state, and great achievements in combat or labor. It is originally a Soviet-type honor, and is continued by several nations including Belarus, Russia and Ukraine. It was also awarded to cities and...
in facing the enemy and performed of their own accord. The decoration is presented by the
President
President of Sri Lanka
The President of Democratic Socialist Republic of Sri Lanka is the elected head of state and the head of government. The President is a dominant political figure in Sri Lanka. The office was created in 1978 but has grown so powerful there have been calls to restrict or even eliminate its power...
of
Sri Lanka
Sri Lanka
Sri Lanka, officially the Democratic Socialist Republic of Sri Lanka is a country off the southern coast of the Indian subcontinent. Known until 1972 as Ceylon , Sri Lanka is an island surrounded by the Indian Ocean, the Gulf of Mannar and the Palk Strait, and lies in the vicinity of India and the...
. Recipients of the decoration are eligible to use the post-nominal letters
RSP
after the name.
Lieutenant Colonel

Lieutenant colonel

Lieutenant colonel is a rank of commissioned officer in the armies and most marine forces and some air forces of the world, typically ranking above a major and below a colonel. The rank of lieutenant colonel is often shortened to simply "colonel" in conversation and in unofficial correspondence...


Gotabhaya Rajapaksa

Gotabhaya Rajapaksa

Lieutenant Colonel Nandasena Gotabaya Rajapaksa, RWP, RSP, psc, GR is a retired officer of the Sri Lanka Army and the current Defence Secretary of Sri Lanka. After serving through the early parts of the country's civil war with Tamil Tiger rebels, he retired from the Army in 1992...



"Strife begets a gentle child." ~ Anonymous

"One must know that war is common, justice is strife, and everything happens according to strife and necessity." ~ Heraclitus Category:Vices