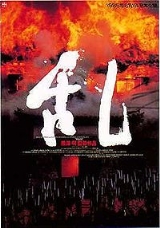 Ran (film)
is a 1985 Japanese-French
jidaigeki
Jidaigeki
is a genre of film, television, and theatre in Japan. The name means "period drama" and is usually the Edo period of Japanese history, from 1603 to 1868. Some, however, are set much earlier—Portrait of Hell, for example, is set during the late Heian period—and the early Meiji era is also a popular...
film written and directed by
Akira Kurosawa
Akira Kurosawa
was a Japanese film director, producer, screenwriter and editor. Regarded as one of the most important and influential filmmakers in the history of cinema, Kurosawa directed 30 filmsIn 1946, Kurosawa co-directed, with Hideo Sekigawa and Kajiro Yamamoto, the feature Those Who Make Tomorrow ;...
. The film starred
Tatsuya Nakadai
Tatsuya Nakadai
is a Japanese leading film actor.He became a star after he was discovered working as a Tokyo shop clerk by filmmaker Masaki Kobayashi during the early 1950s...
as Hidetora Ichimonji, an aging
Sengoku
Sengoku period
The or Warring States period in Japanese history was a time of social upheaval, political intrigue, and nearly constant military conflict that lasted roughly from the middle of the 15th century to the beginning of the 17th century. The name "Sengoku" was adopted by Japanese historians in reference...
-era
warlord
Warlord
A warlord is a person with power who has both military and civil control over a subnational area due to armed forces loyal to the warlord and not to a central authority. The term can also mean one who espouses the ideal that war is necessary, and has the means and authority to engage in war...
who decides to
abdicate
Abdication
Abdication occurs when a monarch, such as a king or emperor, renounces his office.-Terminology:The word abdication comes derives from the Latin abdicatio. meaning to disown or renounce...
as ruler in favor of his three sons. It also stars
Mieko Harada
as the wife of Ichimonji's eldest son. The story is based on legends of the
daimyo
Daimyo
is a generic term referring to the powerful territorial lords in pre-modern Japan who ruled most of the country from their vast, hereditary land holdings...
Mōri Motonari
Mori Motonari
was a prominent daimyō in the west Chūgoku region of Japan during the Sengoku period of the 16th century.-Early years:Mōri Motonari was born under the name Shojumaru in a small domain of Aki province in 1497. He is said to have been born at Suzuo Castle, his mother's homeland...
, as well as on the
Shakespearean tragedy
Shakespearean tragedy
Shakespeare wrote tragedies from the beginning of his career. One of his earliest plays was the Roman tragedy Titus Andronicus, which he followed a few years later with Romeo and Juliet. However, his most admired tragedies were written in a seven-year period between 1601 and 1608...
King Lear
King Lear
King Lear is a tragedy by William Shakespeare. The title character descends into madness after foolishly disposing of his estate between two of his three daughters based on their flattery, bringing tragic consequences for all. The play is based on the legend of Leir of Britain, a mythological...
.
Ran
was Kurosawa's last epic.