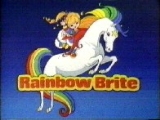 Rainbow Brite
Rainbow Brite
was a character franchise introduced by
Hallmark Cards
Hallmark Cards
Hallmark Cards is a privately owned American company based in Kansas City, Missouri. Founded in 1910 by Joyce C. Hall, Hallmark is the largest manufacturer of greeting cards in the United States. In 1985, the company was awarded the National Medal of Arts....
in 1983, with the animated television series starting the following year.
Rainbow Brite made her animated debut in a syndicated prime-time special, "Peril in the Pits," first aired on June 27, 1984. Two more two-part specials were subsequently made, "The Mighty Monstromurk Menace" and "The Beginning of Rainbowland."
In April 1986,
Rainbow Brite
became a regular series, as part of DIC's weekly syndicated
Kideo TV
Kideo TV
Kideo TV was a 1986 syndicated anthology packaging by DiC Entertainment and LBS Communications, which premiered in April of that year with Rainbow Brite, Popples, and Ulysses 31.-Scheduling history:...
block; eight new episodes were made for this run.
It's time for spring, Stormy! Things have to happen when it's time.

Hey, Glumface, next time there's a rainbow look up! You'll feel better and you might see me too.

I wish I could, Canary, but I have to go and spread color on Earth. Bye!

Colors are pretty!

Faster Lurky Faster!

Come back you despicable rainbow girlies!

You're not goin' anywhere, girlie! Ah Ha Ha Ha Ha Ha!

When I'm finished there won't be any Rainbow Land or Rainbows! Now to put my plan into action.