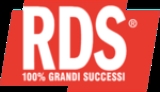 Radio Dimensione Suono
Born in
Rome
Rome
Rome is the capital of Italy and the country's largest and most populated city and comune, with over 2.7 million residents in . The city is located in the central-western portion of the Italian Peninsula, on the Tiber River within the Lazio region of Italy.Rome's history spans two and a half...
in the 1978,
RDS
(abbreviation of
Radio Dimensione Suono
, the previous names were
Radio Dimensione Suono
,
Dimensione Suono Network
) is an
Italian
Italian language
Italian is a Romance language spoken mainly in Europe: Italy, Switzerland, San Marino, Vatican City, by minorities in Malta, Monaco, Croatia, Slovenia, France, Libya, Eritrea, and Somalia, and by immigrant communities in the Americas and Australia...
national
radio station
Radio station
Radio broadcasting is a one-way wireless transmission over radio waves intended to reach a wide audience. Stations can be linked in radio networks to broadcast a common radio format, either in broadcast syndication or simulcast or both...
that broadcasts
Pop music
Pop music
Pop music is usually understood to be commercially recorded music, often oriented toward a youth market, usually consisting of relatively short, simple songs utilizing technological innovations to produce new variations on existing themes.- Definitions :David Hatch and Stephen Millward define pop...
and Italian music.
Is also broadcast on
SKY Italia
Sky Italia
Sky Italia S.r.l. is an Italian digital satellite television platform owned by News Corporation launched on 1 August 2003, when the former platforms TELE+ and Stream TV merged together...
channel 700 and was also broadcast for few months on
Worldspace
WorldSpace
1worldspace, formerly known as 'WorldSpace', is a currently defunct satellite radio network that provided service to over 170,000 subscribers in eastern and southern Africa, the Middle East, and much of Asia with 96% coming from India...
.
Weekday programming
RDS's primary weekday programming includes:
Frequence
Programme
Description (CET

Central European Time

Central European Time , used in most parts of the European Union, is a standard time that is 1 hour ahead of Coordinated Universal Time . The time offset from UTC can be written as +01:00...


time)
every 20 minutes
Traffic
Traffic news
Weather
Weather forecast (08h20, 19h20 and 20h20)
Horoscope
Horoscope with Branko e le stelle (05h20 to 07h20)
every 30 minutes
Novità RDS
New single releases from Italy and around the world
Tournée RDS
This space includes a song of a certain group or artist which RDS sponsor. At the same time listeners are invited to sms the name of the band or artist to win a ticket to their concert
Anteprima RDS
This space includes 4 songs (cut and mixed) coming from an album not yet released. At the same time listeners are invited to sms the name of the artist or album to win it beforehand
every 40 minutes
Sport News
A short summary of the latest sport news lasting around 1–2 minutes
every 33 minutes
Weekend RDS
Talk show (from Friday 19h20 to Sunday 23h20)
every 57 minutes
Attualità RDS
The latest news lasting around 3 minutes
100 sec con Enrico Mentana
100 seconds with the journalist Enrico Mentana (09h59, 10h59, 11h59, 17h59 & 18h59)
Cinema RDS
Rosaria Renna narrates the synopsis of a current film, helped by audio samples from the film
Personalities
Rossella Brescia
Rosaria Renna
Claudio Guerrini
Tamara Taylor

Tamara Taylor

Tamara Taylor is a Canadian television actress.Born in Toronto to a black Canadian father and a Scottish Canadian mother, her most famous role is that of Dr. Camille Saroyan, head of the Forensic Division, on the forensic crime drama Bones...



Anna Pettinelli
Joe Violanti
Max Pagani
Filippo Firli
Marco Liorni
Paolo Piva
Luca Lazzari
Beppe De Marco
Barty

Barty

Barty is a village in the administrative district of Gmina Zalewo, within Iława County, Warmian-Masurian Voivodeship, in northern Poland.-References:...



Manuel Devella
Francesco Allegretti
Corrado Trisoglio
Past personalities
Antonio Costantini (now at Radio Torino International)
Mauro Marino (now at Radio Kiss Kiss

Radio Kiss Kiss

Radio Kiss Kiss is an Italian commercial radio station and one of the first radio station aired from Naples, Italy.Based in Naples, Italy, with two offices in Rome and Milan, this radio station is devoted to Soul, Funky and Disco music.- Programming :...


)
Gigi Ariemma (now at Radio Capital

Radio Capital

Radio Capital is an Italian private radio station, was founded on May, 1977 and is owned by the Gruppo Editoriale L'EspressoBroadcast FTA on Hot Bird, on SKY Italia channel 700 and on Alice Home TV channel 775.-Programming:...


)
Federico Russo (now at Radio Deejay

Radio DeeJay

Radio DeeJay is an italian radio station. It was founded on 1 February 1982 by the Italian radio and television personality Claudio Cecchetto and was acquired by the Gruppo Editoriale L'Espresso in 1989 .-Overview:Early personalities on this radio station include: Claudio Cecchetto, Gerry Scotti,...


)
Elena Di Dioccio
Petra Loreggian
Charlie Gnocchi (now at RTL 102.5

RTL 102.5

RTL 102.5 is a private Italian radio station. Despite its name, this radio station is not endorsed or affiliated with RTL Group.It has been the first Italian radio station using the format Contemporary hit radio, which involves the broadcasting of greatest hits only.The RTL 102.5 group includes...


)
Roberto Coppola
Andrea Pellizzari (now at Radio Deejay

Radio DeeJay

Radio DeeJay is an italian radio station. It was founded on 1 February 1982 by the Italian radio and television personality Claudio Cecchetto and was acquired by the Gruppo Editoriale L'Espresso in 1989 .-Overview:Early personalities on this radio station include: Claudio Cecchetto, Gerry Scotti,...


)