 Rack unit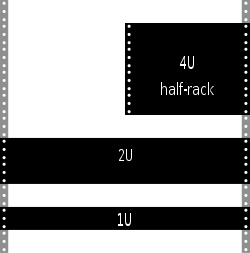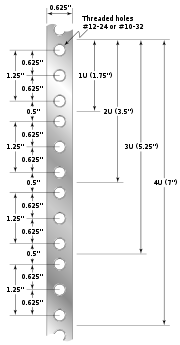 A
rack unit
or
U
is a unit of measure used to describe the
height
Height
Height is the measurement of vertical distance, but has two meanings in common use. It can either indicate how "tall" something is, or how "high up" it is. For example "The height of the building is 50 m" or "The height of the airplane is 10,000 m"...
of equipment intended for mounting in a
19-inch rack
19-inch rack
A 19-inch rack is a standardized frame or enclosure for mounting multiple equipment modules. Each module has a front panel that is wide, including edges or ears that protrude on each side which allow the module to be fastened to the rack frame with screws.-Overview and history:Equipment designed...
or a
23-inch rack
23-inch rack
A 23-inch rack is used for housing telephone , computer, audio and other equipment though is less common than the 19-inch rack. The size notes the width of the faceplate for the installed equipment...
(The 19-inch or 23-inch dimension refers to the width of the equipment mounting frame in the rack i.e. the width of the equipment that can be mounted inside the rack). One rack unit is 1.75
inch
Inch
An inch is the name of a unit of length in a number of different systems, including Imperial units, and United States customary units. There are 36 inches in a yard and 12 inches in a foot...
es (44.45
mm
Millimetre
The millimetre is a unit of length in the metric system, equal to one thousandth of a metre, which is the SI base unit of length....
) high.
The size of a piece of rack-mounted equipment is frequently described as a number in "U". For example, one rack unit is often referred to as "1U", 2 rack units as "2U" and so on.
A typical full size rack is 44U, which means it holds just over 6 feet of equipment.
The term "half-rack" is used differently in
computing
Computing
Computing is usually defined as the activity of using and improving computer hardware and software. It is the computer-specific part of information technology...
and audio/video (AV) applications.
In AV, half-rack units typically describe units that fit in a certain number of rack units, but occupy only half the width of a 19-inch rack (9.5 in or 241 mm). These are commonly used when a piece of equipment does not require full rack width, but may require more than 1U of height. For example, a "4U half-rack" DVCAM deck would occupy 4U (7 in) height × 9.5 in width, and in theory, two 4U half-rack decks could be mounted side by side and occupy the 4U space.
In computing and information technology

Information technology

Information technology is the acquisition, processing, storage and dissemination of vocal, pictorial, textual and numerical information by a microelectronics-based combination of computing and telecommunications...


, however, "half-rack" typically describes a unit that is 1U high and half the depth of a 4-post rack (such as a network switch

Network switch

A network switch or switching hub is a computer networking device that connects network segments.The term commonly refers to a multi-port network bridge that processes and routes data at the data link layer of the OSI model...


, router, KVM switch

KVM switch

A KVM switch is a hardware device that allows a user to control multiple computers from a single keyboard, video monitor and mouse. Although multiple computers are connected to the KVM, typically a smaller number of computers can be controlled at any given time...


, or server

Server (computing)

In the context of client-server architecture, a server is a computer program running to serve the requests of other programs, the "clients". Thus, the "server" performs some computational task on behalf of "clients"...


), such that two units can be mounted in 1U of space (one mounted at the front of the rack and one at the rear). When used to describe the rack enclosure itself, the term "half-rack" typically means a rack enclosure that is 24U tall.
A front panel or filler panel in a rack is not an exact multiple of 1.75 inches (44.45 mm). To allow space between adjacent rack-mounted components, a panel is inch (0.031 inch or 0.79 mm) less in height than the full number of rack units would imply. Thus, a 1U front panel would be 1.719 inches (43.66 mm) high. If
n
is number of rack units, the formula for panel height is
h
= (1.750
n
− 0.031) inch = (44.45
n
− 0.79) mm.
Coincidentally, a rack unit is equal to a
vershok
Obsolete Russian units of measurement
A native system of weights and measures was used in Imperial Russia and after the Russian Revolution, but it was abandoned in 1924 when the Soviet Union adopted the metric system.The Tatar system is very similar to the Russian one, but some names are different....
, an obsolete Russian length unit.
The rack unit size is based on a standard rack specification as defined in
EIA
Electronic Industries Alliance
The Electronic Industries Alliance was a standards and trade organization composed as an alliance of trade associations for electronics manufacturers in the United States. They developed standards to ensure the equipment of different manufacturers was compatible and interchangeable...
-310. The rack unit is also specified as the unit of height in the Eurocard standard, which also defines a similar unit,
horizontal pitch
Horizontal pitch
Horizontal pitch is a unit of length defined by the Eurocard printed circuit board standard used to measure the horizontal width of rack mounted electronic equipment, similar to the rack unit used to measure vertical heights of rack mounted equipment. One HP is wide. A standard 19-inch rack is...
(HP), used to measure the width of rack mounted equipment.
External links
Abstract of EIA-310 standard at Electronic Industries Alliance

Electronic Industries Alliance

The Electronic Industries Alliance was a standards and trade organization composed as an alliance of trade associations for electronics manufacturers in the United States. They developed standards to ensure the equipment of different manufacturers was compatible and interchangeable...


website