Rabeprazole
Rabeprazole
is an antiulcer drug in the class of
proton pump inhibitor
Proton pump inhibitor
Proton-pump inhibitors are a group of drugs whose main action is a pronounced and long-lasting reduction of gastric acid production. They are the most potent inhibitors of acid secretion available today. The group followed and has largely superseded another group of pharmaceuticals with similar...
s. It was developed by
Eisai Co.
Eisai Co.
is a Japanese pharmaceutical company, ranking among the top 25 in the world by revenue and achieving $8 billion USD in sales for the fiscal 2008 year. Headquartered in Tokyo, Japan, it has some 10,000 employees, among them about 1,500 in research. Eisai is a member of the Topix 100 and Nikkei 225...
and is marketed by
Janssen-Cilag
Janssen Pharmaceutica
Janssen Pharmaceutica is pharmaceutical company, established in Belgium in 1953 by Paul Janssen. Its headquarters are located in Beerse, in the Campine region of the province of Antwerp, Belgium. It was created not as a subsidiary of a chemical factory but solely with the aim of conducting...
as
rabeprazole sodium
under the brand names
AcipHex
(ˈæsɨfɛks, referring to
pH
PH
In chemistry, pH is a measure of the acidity or basicity of an aqueous solution. Pure water is said to be neutral, with a pH close to 7.0 at . Solutions with a pH less than 7 are said to be acidic and solutions with a pH greater than 7 are basic or alkaline...
) in the US and
Pariet
in Britain, Italy, Greece, Australia, Brazil, Canada, Japan, and Russia. It is sold as
RAZO
in India (Dr. Reddy's: Farhaad)
Indications and usage
Short-term treatment in
healing
Healing
Physiological healing is the restoration of damaged living tissue, organs and biological system to normal function. It is the process by which the cells in the body regenerate and repair to reduce the size of a damaged or necrotic area....
and
symptom
Symptom
A symptom is a departure from normal function or feeling which is noticed by a patient, indicating the presence of disease or abnormality...
atic relief of duodenal ulcers and erosive or ulcerative gastroesophageal reflux disease (
GERD
Gerd
In Norse mythology, Gerðr is a jötunn, goddess, and the wife of the god Freyr. Gerðr is attested in the Poetic Edda, compiled in the 13th century from earlier traditional sources; the Prose Edda and Heimskringla, written in the 13th century by Snorri Sturluson; and in the poetry of skalds...
); maintaining healing and reducing relapse rates of
heartburn
Heartburn
Heartburn, also known as pyrosis or acid indigestion is a burning sensation in the chest, just behind the breastbone or in the epigastrium...
symptoms in patients with GERD; treatment of daytime and nighttime heartburn and other symptoms associated with GERD; long-term treatment of pathological hypersecretory conditions, including Zollinger-Ellison syndrome and in combination with amoxicillin and clarithromycin to eradicate
Helicobacter pylori
Helicobacter pylori
Helicobacter pylori , previously named Campylobacter pyloridis, is a Gram-negative, microaerophilic bacterium found in the stomach. It was identified in 1982 by Barry Marshall and Robin Warren, who found that it was present in patients with chronic gastritis and gastric ulcers, conditions that were...
.
Gastric ulcer(GU)
Peptic ulcer disease (PUD)
Maintenance of healing of erosive or ulcerative GERD
Healing of erosive and ulcerative GERD
Healing of duodenal ulcers.
Treatment of symptomatic GERD
Treatment of pathological hypersecretory conditions (Zollinger-Ellison syndrome

Zollinger-Ellison syndrome

Zollinger–Ellison syndrome is a triad of gastric acid hypersecretion, severe peptic ulceration, and non-beta cell islet tumor of pancreas . In this syndrome increased levels of the hormone gastrin are produced, causing the stomach to produce excess hydrochloric acid. Often the cause is a tumor of...


)
Helicobacter pylori eradication to reduce risk of duodenal ulcer recurrence
Contraindications
hypersensitivity to rabeprazole, substituted benzimidazoles or any of components of its pharmaceutical forms.
pregnancy: FDA Pregnancy Ratings: B
lactation

Lactation

Lactation describes the secretion of milk from the mammary glands and the period of time that a mother lactates to feed her young. The process occurs in all female mammals, however it predates mammals. In humans the process of feeding milk is called breastfeeding or nursing...


: Thomson Lactation Ratings: Infant risk cannot be ruled out.
Restriction of usage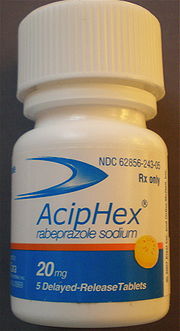 acute hepatic failure
pediatric use in patients under 18 years of age (there are insufficient data about safety and efficiency of rabeprazole in this group of patients)
Side effects
Rabeprazole
adverse reactions/
side effect
Side effect
In medicine, a side effect is an effect, whether therapeutic or adverse, that is secondary to the one intended; although the term is predominantly employed to describe adverse effects, it can also apply to beneficial, but unintended, consequences of the use of a drug.Occasionally, drugs are...
s include:
In clinical trials the most common side effect assessed as possibly or probably related to AcipHex was headache

Headache

A headache or cephalalgia is pain anywhere in the region of the head or neck. It can be a symptom of a number of different conditions of the head and neck. The brain tissue itself is not sensitive to pain because it lacks pain receptors. Rather, the pain is caused by disturbance of the...


in 2.4% of patients vs 1.6% taking placebo

Placebo

A placebo is a simulated or otherwise medically ineffectual treatment for a disease or other medical condition intended to deceive the recipient...


.
diarrhea

Diarrhea

Diarrhea , also spelled diarrhoea, is the condition of having three or more loose or liquid bowel movements per day. It is a common cause of death in developing countries and the second most common cause of infant deaths worldwide. The loss of fluids through diarrhea can cause dehydration and...



vomiting
nausea

Nausea

Nausea , is a sensation of unease and discomfort in the upper stomach with an involuntary urge to vomit. It often, but not always, precedes vomiting...



abdominal pains
constipation

Constipation

Constipation refers to bowel movements that are infrequent or hard to pass. Constipation is a common cause of painful defecation...



meteorism

Tympanites

Tympanites , also known as meteorism, is a medical condition in which excess gas accumulates in the gastrointestinal tract.-Possible causes:* Bowel obstruction* Renal stones* Functional disorder* Overeating...



dry mouth
increased or decreased appetite
asthenia
headache

Headache

A headache or cephalalgia is pain anywhere in the region of the head or neck. It can be a symptom of a number of different conditions of the head and neck. The brain tissue itself is not sensitive to pain because it lacks pain receptors. Rather, the pain is caused by disturbance of the...



anxiety

Anxiety

Anxiety is a psychological and physiological state characterized by somatic, emotional, cognitive, and behavioral components. The root meaning of the word anxiety is 'to vex or trouble'; in either presence or absence of psychological stress, anxiety can create feelings of fear, worry, uneasiness,...



sleeplessness

Insomnia

Insomnia is most often defined by an individual's report of sleeping difficulties. While the term is sometimes used in sleep literature to describe a disorder demonstrated by polysomnographic evidence of disturbed sleep, insomnia is often defined as a positive response to either of two questions:...



vertigo

Vertigo (medical)

Vertigo is a type of dizziness, where there is a feeling of motion when one is stationary. The symptoms are due to a dysfunction of the vestibular system in the inner ear...



thrombocytopenia

Thrombocytopenia

Thrombocytopenia is a relative decrease of platelets in blood.A normal human platelet count ranges from 150,000 to 450,000 platelets per microliter of blood. These limits are determined by the 2.5th lower and upper percentile, so values outside this range do not necessarily indicate disease...



granulocytopenia
leukocytopenia
skin eruption
erythema

Erythema

Erythema is redness of the skin, caused by hyperemia of the capillaries in the lower layers of the skin. It occurs with any skin injury, infection, or inflammation...



myalgia

Myalgia

Myalgia means "muscle pain" and is a symptom of many diseases and disorders. The most common causes are the overuse or over-stretching of a muscle or group of muscles. Myalgia without a traumatic history is often due to viral infections...



arthralgia

Arthralgia

Arthralgia literally means joint pain; it is a symptom of injury, infection, illnesses or an allergic reaction to medication....



muscle or bone pain
Drug interactions
Rabeprazole decreases the concentration of
ketoconazole
Ketoconazole
Ketoconazole is a synthetic antifungal drug used to prevent and treat fungal skin infections, especially in immunocompromised patients such as those with AIDS or those on chemotherapy. Ketoconazole is sold commercially as an anti-dandruff shampoo, topical cream, and oral tablet.Ketoconazole is...
in the plasma (in 33%), increases the concentration of
digoxin
Digoxin
Digoxin INN , also known as digitalis, is a purified cardiac glycoside and extracted from the foxglove plant, Digitalis lanata. Its corresponding aglycone is digoxigenin, and its acetyl derivative is acetyldigoxin...
(in 22%), and does not interact with liquid
antacid
Antacid
An antacid is a substance which neutralizes stomach acidity.-Mechanism of action:Antacids perform a neutralization reaction, increasing the pH to reduce acidity in the stomach. When gastric hydrochloric acid reaches the nerves in the gastrointestinal mucosa, they signal pain to the central nervous...
s. Rabeprazole is compatible with any medicine metabolized by the CYP450 (
theophylline
Theophylline
Theophylline, also known as dimethylxanthine, is a methylxanthine drug used in therapy for respiratory diseases such as COPD and asthma under a variety of brand names. Because of its numerous side-effects, the drug is now rarely administered for clinical use. As a member of the xanthine family, it...
,
warfarin
Warfarin
Warfarin is an anticoagulant. It is most likely to be the drug popularly referred to as a "blood thinner," yet this is a misnomer, since it does not affect the thickness or viscosity of blood...
,
diazepam
Diazepam
Diazepam , first marketed as Valium by Hoffmann-La Roche is a benzodiazepine drug. Diazepam is also marketed in Australia as Antenex. It is commonly used for treating anxiety, insomnia, seizures including status epilepticus, muscle spasms , restless legs syndrome, alcohol withdrawal,...
,
phenytoin
Phenytoin
Phenytoin sodium is a commonly used antiepileptic. Phenytoin acts to suppress the abnormal brain activity seen in seizure by reducing electrical conductance among brain cells by stabilizing the inactive state of voltage-gated sodium channels...
).
Overdosage
Studies in mice and rats indicated the symptoms of acute toxicity due to overdose included:
hypoactivity
Hypoactivity
Hypoactivity is inhibition of behavioral or locomotor activity.Some drugs such as antipsychotics and mCPP produce this effect....
, labored respiration,
convulsion
Convulsion
A convulsion is a medical condition where body muscles contract and relax rapidly and repeatedly, resulting in an uncontrolled shaking of the body. Because a convulsion is often a symptom of an epileptic seizure, the term convulsion is sometimes used as a synonym for seizure...
,
diarrhea
Diarrhea
Diarrhea , also spelled diarrhoea, is the condition of having three or more loose or liquid bowel movements per day. It is a common cause of death in developing countries and the second most common cause of infant deaths worldwide. The loss of fluids through diarrhea can cause dehydration and...
,
tremor
Tremor
A tremor is an involuntary, somewhat rhythmic, muscle contraction and relaxation involving to-and-fro movements of one or more body parts. It is the most common of all involuntary movements and can affect the hands, arms, eyes, face, head, vocal folds, trunk, and legs. Most tremors occur in the...
, and coma. A study in dogs indicated that a dose of 2000mg/kg was not lethal.
Formulations and brand names
Rabeprazole as "Elpizole" (Orchid Chemicals & Pharmaceuticals), "Elpizole -20" (Orchid Chemicals & Pharmaceuticals) Rablet (Lupin), AcipHex, Rabeloc, Pariet is supplied in:
Tablet, enteric-coated

Enteric coating

An enteric coating is a barrier applied to oral medication that controls the location in the digestive system, where it is absorbed. Enteric refers to the small intestine, therefore enteric coatings prevent release of medication before it reaches the small intestine.Most enteric coatings work by...


; 10 mg
Tablet, enteric-coated; 20 mg
Rabeprazole is sold under the brand names
Razo
(DRL: Farhaad),Esoon,
Parit
(gsk),Rabium and Rablet in India, and Zechin in Pakistan. In the Indian rural market Rabiloz is being marketed by Torrent Pharmaceuticals Ltd.
External links