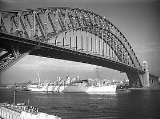 RMS Strathaird
RMS
, later
SS
,
Strathaird
was the second of the
Peninsular and Oriental Steam Navigation Company
Peninsular and Oriental Steam Navigation Company
The Peninsular and Oriental Steam Navigation Company, which is usually known as P&O, is a British shipping and logistics company which dated from the early 19th century. Following its sale in March 2006 to Dubai Ports World for £3.9 billion, it became a subsidiary of DP World; however, the P&O...
Strath class
ocean liner
Ocean liner
An ocean liner is a ship designed to transport people from one seaport to another along regular long-distance maritime routes according to a schedule. Liners may also carry cargo or mail, and may sometimes be used for other purposes .Cargo vessels running to a schedule are sometimes referred to as...
s. She was built at Vickers-Armstrong,
Barrow-in-Furness
Barrow-in-Furness
Barrow-in-Furness is an industrial town and seaport which forms about half the territory of the wider Borough of Barrow-in-Furness in the county of Cumbria, England. It lies north of Liverpool, northwest of Manchester and southwest from the county town of Carlisle...
, then in
Lancashire
Lancashire
Lancashire is a non-metropolitan county of historic origin in the North West of England. It takes its name from the city of Lancaster, and is sometimes known as the County of Lancaster. Although Lancaster is still considered to be the county town, Lancashire County Council is based in Preston...
, and launched on 18 July 1931. She remained in service for less than 30 years, being scrapped in 1961.
History
Strathaird
was built just after the
Strathnaver
and the two ships were the first P&O liners to be painted with white hulls and yellow funnels, and nicknamed The White Sisters. There were three funnels, though the first and third were dummies and were removed in the refit in 1947 that followed her service in the Second World War.
Strathaird's
maiden voyage was on the mail run from Tilbury to
Sydney
Sydney
Sydney is the most populous city in Australia and the state capital of New South Wales. Sydney is located on Australia's south-east coast of the Tasman Sea. As of June 2010, the greater metropolitan area had an approximate population of 4.6 million people...
through the
Suez Canal
Suez Canal
The Suez Canal , also known by the nickname "The Highway to India", is an artificial sea-level waterway in Egypt, connecting the Mediterranean Sea and the Red Sea. Opened in November 1869 after 10 years of construction work, it allows water transportation between Europe and Asia without navigation...
and this remained her route until the war. In December 1932,
Strathaird
was the first P&O ship to operate a cruise, when she took a five-day excursion from Sydney to
Norfolk Island
Norfolk Island
Norfolk Island is a small island in the Pacific Ocean located between Australia, New Zealand and New Caledonia. The island is part of the Commonwealth of Australia, but it enjoys a large degree of self-governance...
; later in the 1930s she was also used on occasion for cruises from UK ports.
Two further Strath class ships, slightly larger and with only one funnel, the
Strathmore
and the
Stratheden
, joined
Strathaird
and
Strathnaver
on the Sydney run from the mid 1930s. A fifth ship, the
Strathallan
, was completed in 1938, requisitioned as a troopship only a year later, and sunk in the Mediterranean in 1942 taking troops to the landings in North Africa, though with more than 5,000 people on board casualties are thought to have numbered only a dozen or so.
On wartime service from 1939 to the end of 1946,
Strathaird
was used to take troops from Australasia to the Middle East. During a refit in Liverpool, she was also used in the evacuation of troops from
Brest
Brest, France
Brest is a city in the Finistère department in Brittany in northwestern France. Located in a sheltered position not far from the western tip of the Breton peninsula, and the western extremity of metropolitan France, Brest is an important harbour and the second French military port after Toulon...
, in France.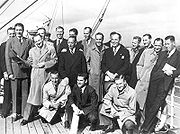 Strathaird
was extensively refitted in 1947 for the resumption of her P&O career: the dummy funnels were removed and the numbers of first-class passengers increased, with a drop in the number of tourist-class passengers. One of her early duties on her return to civilian tasks was to bring the 1948 Australian cricket team, also known as The Invincibles, to England. A further refit in the early 1950s accompanied a downgrade in status which saw the ship converted to a single class.
Increasing unreliability of the older pair of Strath liners led P&O to propose a new single ship, the
SS Canberra
SS Canberra
SS Canberra was an ocean liner, which later operated on cruises, in the P&O fleet from 1961 to 1997. She was built at the Harland and Wolff shipyard in Belfast, Northern Ireland at a cost of £17,000,000. The ship was named on 17 March 1958, after the federal capital of Australia, Canberra...
, that would replace both of them.
Strathaird's
final outward journey from Tilbury was on 28 March 1961 and her return voyage departed from Sydney on 9 May, 1961. She left Tilbury finally on 17 June 1961 for a breaker's yard in Hong Kong.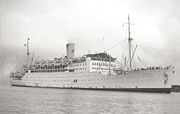 Egon Kisch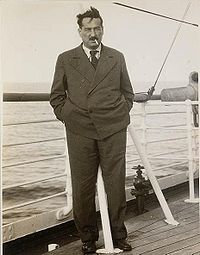 In November 1934 Czechoslovak writer, journalist and opponent of Adolf Hitler's Nazi regime Egon Kisch was confined onboard the Strathaird when the Australian government unsuccessfully attempted to exclude him from the Commonwealth. Kisch dramatically defied the exclusion order by leaping from the departing Strathaird on to Melbourne's Station Pier and breaking his right leg. Australian authorities returned him onboard but he was later released and allowed to visit freely by the Australian High Court.
External links