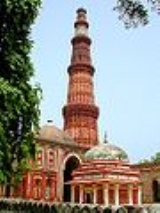 Qutub Minar
Qutub Minar
also
Qutb Minar
, is a
UNESCO
UNESCO
The United Nations Educational, Scientific and Cultural Organization is a specialized agency of the United Nations...
World Heritage Site
World Heritage Site
A UNESCO World Heritage Site is a place that is listed by the UNESCO as of special cultural or physical significance...
. Located in
Delhi
Delhi
Delhi , officially National Capital Territory of Delhi , is the largest metropolis by area and the second-largest by population in India, next to Mumbai. It is the eighth largest metropolis in the world by population with 16,753,265 inhabitants in the Territory at the 2011 Census...
,
India
India
India , officially the Republic of India , is a country in South Asia. It is the seventh-largest country by geographical area, the second-most populous country with over 1.2 billion people, and the most populous democracy in the world...
. The Qutub Minar is constructed with red sandstone and marble, and is the tallest
minaret
Minaret
A minaret مناره , sometimes مئذنه) is a distinctive architectural feature of Islamic mosques, generally a tall spire with an onion-shaped or conical crown, usually either free standing or taller than any associated support structure. The basic form of a minaret includes a base, shaft, and gallery....
in India, with a height of 72.5 meters (237.8 ft), contains 379 stairs to reach the top, and the diameter of base is 14.3 meters where as the last store is of 2.7 meters. The Construction was commenced by Qutb-ud-din Aibak in 1199 A.D and completed by
Iltutmish
Iltutmish
Shams-ud-din Iltutmish was the third ruler of the Mamluk dynasty of Delhi of Turkic origin. He was a slave of Qutub-ud-din-Aybak and later became his son-in-law and close lieutenant. He was the Governor of Badaun when he deposed Qutub-ud-din's successor Aram Shah and acceeded to the throne of the...
.