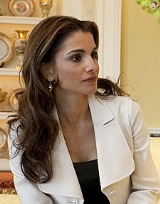 Queen Rania of Jordan
{|align=right
|
|-
{|align=right
|-
|
|}
Rania Al Abdullah
(
Rānyā al-'abdu l-Lāh
) (born
Rania al Yassin
on 31 August 1970) is the current Queen consort of Jordan as the wife of King
Abdullah II
Abdullah II of Jordan
Abdullah II ibn al-Hussein is the reigning King of the Hashemite Kingdom of Jordan. He ascended the throne on 7 February 1999 after the death of his father King Hussein. King Abdullah, whose mother is Princess Muna al-Hussein, is a member of the Hashemite family...
of
Jordan
Jordan
Jordan , officially the Hashemite Kingdom of Jordan , Al-Mamlaka al-Urduniyya al-Hashemiyya) is a kingdom on the East Bank of the River Jordan. The country borders Saudi Arabia to the east and south-east, Iraq to the north-east, Syria to the north and the West Bank and Israel to the west, sharing...
.
She has focused her energy, at home and abroad, on a variety of causes. In Jordan, her work concentrates on the calibre and quality of education for Jordanian children, while abroad she advocates for global education and for world leaders to fulfill their commitments towards the second Millennium Development Goal,
Universal Primary Education
Universal Primary Education
The second United Nations Millennium Development Goal is to achieve Universal Primary Education, more specifically, to "ensure that by 2015, children everywhere, boys and girls alike will be able to complete a full course of primary schooling." Currently, there are more than 75 million children...
.
Rania Al-Yassin was born in
Kuwait
Kuwait
The State of Kuwait is a sovereign Arab state situated in the north-east of the Arabian Peninsula in Western Asia. It is bordered by Saudi Arabia to the south at Khafji, and Iraq to the north at Basra. It lies on the north-western shore of the Persian Gulf. The name Kuwait is derived from the...
to
Palestinian
Palestinian people
The Palestinian people, also referred to as Palestinians or Palestinian Arabs , are an Arabic-speaking people with origins in Palestine. Despite various wars and exoduses, roughly one third of the world's Palestinian population continues to reside in the area encompassing the West Bank, the Gaza...
parents from
Tulkarm
Tulkarm
Tulkarem or Tulkarm is a Palestinian city in the northern Samarian mountain range in the Tulkarm Governorate in the extreme northwestern West Bank adjacent to the Netanya and Haifa districts to the west, the Nablus and Jenin Districts to the east...
.
I think that mind-sets are changing in the Middle East. Poll after poll is showing that men see the value of greater female participation and empowerment. We still have a long way to go, but Islam should not be used as a scapegoat. The obstacles that face women today are more cultural. It's not about the religion.

To achieve a lasting peace in the Middle East takes guts, not guns.

I believe in microfinance because it isn't just a path out of poverty. It's the road to self-reliance. By allowing people to team up and literally become their own bank, you can mobilize people and resources and alleviate poverty on the global scale.