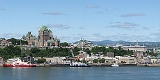 Quebec City
Quebec also Québec, Quebec City or Québec City is the capital of the
Canadian province
Provinces and territories of Canada
The provinces and territories of Canada combine to make up the world's second-largest country by area. There are ten provinces and three territories...
of
Quebec
Quebec
Quebec or is a province in east-central Canada. It is the only Canadian province with a predominantly French-speaking population and the only one whose sole official language is French at the provincial level....
and is located within the
Capitale-Nationale
Capitale-Nationale
Capitale-Nationale is one of 17 administrative regions of Quebec, Canada. Quebec City, Quebec's centre of government, is located in this region. It has a land area of 18,638.7 km2...
region. It is the second most populous city in Quebec after
Montreal
Montreal
Montreal is a city in Canada. It is the largest city in the province of Quebec, the second-largest city in Canada and the seventh largest in North America...
, which is about 233 kilometres (145 mi) to the southwest. As of the
2006 Canadian Census
Canada 2006 Census
The Canada 2006 Census was a detailed enumeration of the Canadian population. Census day was May 16, 2006. The next census following will be the 2011 Census. Canada's total population enumerated by the 2006 census was 31,612,897...
, the city has a population of 491,142, and the metropolitan area has a population of 715,515.
The narrowing of the
Saint Lawrence River
Saint Lawrence River
The Saint Lawrence is a large river flowing approximately from southwest to northeast in the middle latitudes of North America, connecting the Great Lakes with the Atlantic Ocean. It is the primary drainage conveyor of the Great Lakes Basin...
approximate to the city's promontory, Cap-Diamant (Cape Diamond), and
Lévis
Lévis, Quebec
Lévis is a city in eastern Quebec, Canada. It is located on the south shore of the St. Lawrence River, opposite Quebec City. A ferry links Old Quebec with Old Lévis, and two bridges, the Quebec Bridge and the Pierre Laporte Bridge, connect western Lévis with Quebec City. The Société de transport de...
, on the opposite bank, provided the name given to the city,
Kébec
, an
Algonquin
Algonquin language
Algonquin is either a distinct Algonquian language closely related to the Ojibwe language or a particularly divergent Ojibwe dialect. It is spoken, alongside French and to some extent English, by the Algonquin First Nations of Quebec and Ontario...
word meaning "where the river narrows".