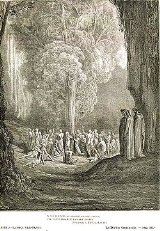 Purgatory
Purgatory
is the condition or process of purification or temporary punishment in which, it is believed, the souls of those who die in a state of grace are made ready for
Heaven
Heaven
Heaven, the Heavens or Seven Heavens, is a common religious cosmological or metaphysical term for the physical or transcendent place from which heavenly beings originate, are enthroned or inhabit...
. This is a theological idea that has ancient roots and is well-attested in early Christian literature, while the poetic conception of purgatory as a geographically situated place is largely the creation of medieval Christian piety and imagination.
The notion of purgatory is associated particularly with the Latin Rite of the Catholic Church (in the Eastern sui juris churches or rites it is a doctrine, though often without using the name "Purgatory"); Anglicans of the Anglo-Catholic tradition generally also hold to the belief.