 Public property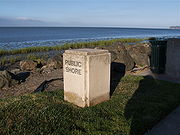 Public property
is
property
Property
Property is any physical or intangible entity that is owned by a person or jointly by a group of people or a legal entity like a corporation...
, which is dedicated to the use of the public. It is a subset of
state property
State property
State property is property owned by the state anything registered with the "state" becomes 'State property'. Such property may also referred to crown property...
. The term may be used either to describe the use to which the property is put, or to describe the character of its ownership (owned collectively by the
population
Population
A population is all the organisms that both belong to the same group or species and live in the same geographical area. The area that is used to define a sexual population is such that inter-breeding is possible between any pair within the area and more probable than cross-breeding with individuals...
of a
state
Sovereign state
A sovereign state, or simply, state, is a state with a defined territory on which it exercises internal and external sovereignty, a permanent population, a government, and the capacity to enter into relations with other sovereign states. It is also normally understood to be a state which is neither...
). This is in contrast to
private property
Private property
Private property is the right of persons and firms to obtain, own, control, employ, dispose of, and bequeath land, capital, and other forms of property. Private property is distinguishable from public property, which refers to assets owned by a state, community or government rather than by...
, owned by an individual person or artificial entities that represent the financial interests of persons, such as corporations.
State ownership
State ownership
State ownership, also called public ownership, government ownership or state property, are property interests that are vested in the state, rather than an individual or communities....
, also called
public ownership
,
government ownership
or
state property
, are property interests that are vested in the
state
State (polity)
A state is an organized political community, living under a government. States may be sovereign and may enjoy a monopoly on the legal initiation of force and are not dependent on, or subject to any other power or state. Many states are federated states which participate in a federal union...
, rather than an
individual
Individual
An individual is a person or any specific object or thing in a collection. Individuality is the state or quality of being an individual; a person separate from other persons and possessing his or her own needs, goals, and desires. Being self expressive...
or
communities
Community
The term community has two distinct meanings:*a group of interacting people, possibly living in close proximity, and often refers to a group that shares some common values, and is attributed with social cohesion within a shared geographical location, generally in social units larger than a household...
.
Crown property
In the modern
representative democracy
Representative democracy
Representative democracy is a form of government founded on the principle of elected individuals representing the people, as opposed to autocracy and direct democracy...
, "public property" is said to be owned by the people as a commons or held in trust by the government for common benefit. In many
Commonwealth realm
Commonwealth Realm
A Commonwealth realm is a sovereign state within the Commonwealth of Nations that has Elizabeth II as its monarch and head of state. The sixteen current realms have a combined land area of 18.8 million km² , and a population of 134 million, of which all, except about two million, live in the six...
s, such property is said to be owned by
the Crown
The Crown
The Crown is a corporation sole that in the Commonwealth realms and any provincial or state sub-divisions thereof represents the legal embodiment of governance, whether executive, legislative, or judicial...
. Examples include
Crown land
Crown land
In Commonwealth realms, Crown land is an area belonging to the monarch , the equivalent of an entailed estate that passed with the monarchy and could not be alienated from it....
,
Crown copyright
Crown copyright
Crown copyright is a form of copyright claim used by the governments of a number of Commonwealth realms. It provides special copyright rules for the Crown .- Australia :...
, and Crown Dependencies.