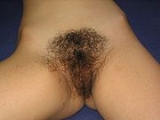 Pubic hair
Pubic hair
is
hair
Hair
Hair is a filamentous biomaterial, that grows from follicles found in the dermis. Found exclusively in mammals, hair is one of the defining characteristics of the mammalian class....
in the frontal genital area, the
crotch
Groin
In human anatomy, the groin areas are the two creases at the junction of the torso with the legs, on either side of the pubic area. This is also known as the medial compartment of the thigh. A pulled groin muscle usually refers to a painful injury sustained by straining the hip adductor muscles...
, and sometimes at the top of the inside of the legs; these areas form the pubic region.
Although fine
vellus hair
Vellus
Vellus hair, colloquially called 'peach fuzz' or 'bum fluff', is short, fine, light-colored, and barely noticeable hair that develops on most of a person's body from his/her childhood. Exceptions include the lips, the back of the ear, the palm of the hand, the sole of the foot, some external...
is present in the area in childhood, the term pubic hair is generally restricted to the heavier, longer and coarser hair that develops with puberty as an effect of rising levels of
androgen
Androgen
Androgen, also called androgenic hormone or testoid, is the generic term for any natural or synthetic compound, usually a steroid hormone, that stimulates or controls the development and maintenance of male characteristics in vertebrates by binding to androgen receptors...
s. Pubic hair is therefore part of the
androgenic hair
Androgenic hair
Androgenic hair, colloquially body hair, is the terminal hair that develops on the body during and after puberty. It is differentiated from the head hair and less visible vellus hair, which are much finer and lighter in color. The growth of androgenic hair is related to the level of androgens in...
.
The development of pubic hair can be assessed using the Tanner scale.