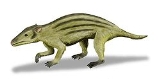 Pseudotribos
Pseudotribos
is an extinct
genus
Genus
In biology, a genus is a low-level taxonomic rank used in the biological classification of living and fossil organisms, which is an example of definition by genus and differentia...
of
mammal
Mammal
Mammals are members of a class of air-breathing vertebrate animals characterised by the possession of endothermy, hair, three middle ear bones, and mammary glands functional in mothers with young...
from the
Middle Jurassic
Middle Jurassic
The Middle Jurassic is the second epoch of the Jurassic Period. It lasted from 176-161 million years ago. In European lithostratigraphy, rocks of this Middle Jurassic age are called the Dogger....
some 165 million years ago of
China
China
Chinese civilization may refer to:* China for more general discussion of the country.* Chinese culture* Greater China, the transnational community of ethnic Chinese.* History of China* Sinosphere, the area historically affected by Chinese culture...
.
External links