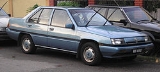 Proton Saga
The
Proton Saga
was launched in September 1985 by Malaysia's then Prime Minister,
Mahathir bin Mohamad
Mahathir bin Mohamad
Tun Dr. Mahathir bin Mohamad . is a Malaysian politician who was the fourth Prime Minister of Malaysia. He held the post for 22 years from 1981 to 2003, making him Malaysia's longest serving Prime Minister. His political career spanned almost 40 years.Born and raised in Alor Setar, Kedah, Mahathir...
. Before the production of Proton Saga, a contest was held to choose the name of the first national car, and the name
Saga
was chosen from the winner of the contest, Ismail Jaafar, a retired military soldier. When asked why he chose this particular name, he replied as "
saga
Jequirity
Abrus precatorius, known commonly as Jequirity, Crab's Eye, Rosary Pea, John Crow Bead, Precatory bean, Indian Licorice, Akar Saga, Giddee Giddee or Jumbie Bead in Trinidad & Tobago, is a slender, perennial climber that twines around trees, shrubs, and hedges. It is a legume with long,...
"
(Abrus precatorius)
is a type of soft, fragile but productive seed commonly found in Malaysia, and joked that the Proton Saga 1.3 litre engine "is as strong as the saga seed".
The first known Proton Saga to roll off the production line was presented to the
Malaysian National Museum
Muzium Negara
National Museum of Malaysia is a museum located on Jalan Damansara in Kuala Lumpur, Malaysia. The museum is situated in close proximity to the Perdana Lake Gardens and it provides an overview of Malaysian history and culture. Muzium Negara is a palatial structure built in the style of Rumah Gadang,...
as a symbol of the beginning of the Malaysian automotive industry.