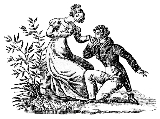 Proposal of marriage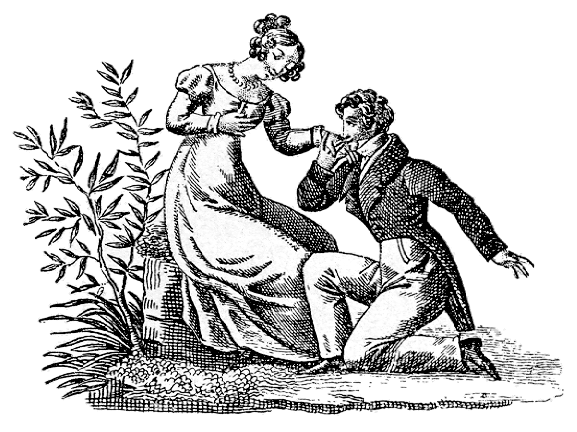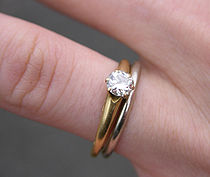 A
marriage proposal
is an event where one person in a
relationship
Intimate relationship
An intimate relationship is a particularly close interpersonal relationship that involves physical or emotional intimacy. Physical intimacy is characterized by romantic or passionate love and attachment, or sexual activity. The term is also sometimes used euphemistically for a sexual...
asks for the other's hand in
marriage
Marriage
Marriage is a social union or legal contract between people that creates kinship. It is an institution in which interpersonal relationships, usually intimate and sexual, are acknowledged in a variety of ways, depending on the culture or subculture in which it is found...
. If accepted, it marks the initiation of
engagement
Engagement
An engagement or betrothal is a promise to marry, and also the period of time between proposal and marriage which may be lengthy or trivial. During this period, a couple is said to be betrothed, affianced, engaged to be married, or simply engaged...
. It often has a ritual quality, sometimes involving the presentation of an
engagement ring
Engagement ring
An engagement ring is a ring indicating that the person wearing it is engaged to be married, especially in Western cultures. In the United Kingdom, Ireland and North America, engagement rings are traditionally worn only by women, and rings can feature diamonds or other gemstones. In other cultures...
and a formalized asking of a question such as "Will you marry me?". In
western culture
Western world
The Western world, also known as the West and the Occident , is a term referring to the countries of Western Europe , the countries of the Americas, as well all countries of Northern and Central Europe, Australia and New Zealand...
, it is traditional for the
man
Man
The term man is used for an adult human male . However, man is sometimes used to refer to humanity as a whole...
to propose to the
woman
Woman
A woman , pl: women is a female human. The term woman is usually reserved for an adult, with the term girl being the usual term for a female child or adolescent...
, as opposed to the other way around, while kneeling before her, and sometimes physically putting the ring on her finger, as opposed to merely giving it to her. Often the proposal is a
surprise
Surprise (emotion)
Surprise is a brief emotional state experienced as the result of an unexpected event. Surprise can have any valence; that is, it can be neutral/moderate, pleasant, or unpleasant. If a person experiences a very powerful or long lasting surprise, it may be considered shock.-Reality...
.
The average duration of preceding courtship varies considerably throughout the world. (See courtship duration.)
In many Western cultures, the tradition has been for the man to propose to the woman. In the
United Kingdom
United Kingdom
The United Kingdom of Great Britain and Northern IrelandIn the United Kingdom and Dependencies, other languages have been officially recognised as legitimate autochthonous languages under the European Charter for Regional or Minority Languages...
and
Ireland
Ireland
Ireland is an island to the northwest of continental Europe. It is the third-largest island in Europe and the twentieth-largest island on Earth...
, 29 February in a
leap year
Leap year
A leap year is a year containing one extra day in order to keep the calendar year synchronized with the astronomical or seasonal year...
is said to be the one day when a woman can propose to her partner. As a
monarch
Monarch
A monarch is the person who heads a monarchy. This is a form of government in which a state or polity is ruled or controlled by an individual who typically inherits the throne by birth and occasionally rules for life or until abdication...
, Queen Victoria had to propose to Prince Albert.
Finland
Finland
Finland , officially the Republic of Finland, is a Nordic country situated in the Fennoscandian region of Northern Europe. It is bordered by Sweden in the west, Norway in the north and Russia in the east, while Estonia lies to its south across the Gulf of Finland.Around 5.4 million people reside...
has the same custom, with the addition that a man rejecting such a proposal was expected to buy his suitor enough cloth for a skirt as compensation. Although still rare, a woman will occasionally propose to a man. Women proposing has reportedly become more common in recent years, with jewelry companies even manufacturing engagement rings for men.
In many cultures, it is traditional for a groom to ask the bride's father for permission before proposing.
With the advent of
same-sex marriage
Same-sex marriage
Same-sex marriage is marriage between two persons of the same biological sex or social gender. Supporters of legal recognition for same-sex marriage typically refer to such recognition as marriage equality....
s, traditional customs regarding the gender of the person who is expected to propose do not have any application.