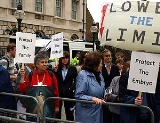 Pro-life
Opposition to the legalization of abortion
is centered around the
pro-life
, or
anti-abortion
,
movement
, a social and political movement opposing elective
abortion
Abortion
Abortion is defined as the termination of pregnancy by the removal or expulsion from the uterus of a fetus or embryo prior to viability. An abortion can occur spontaneously, in which case it is usually called a miscarriage, or it can be purposely induced...
on moral grounds and supporting its legal prohibition or restriction. The modern pro-life movement began as a
countermovement
Countermovement
By definition, a countermovement in sociology means a social movement opposed to another social movement. Whenever one social movement starts up, another group establishes themselves to undermine the previous group. Many social movements start out as an affect of political activism towards issues...
in response to the decriminalization and legalization of elective abortion in various
states
U.S. state
A U.S. state is any one of the 50 federated states of the United States of America that share sovereignty with the federal government. Because of this shared sovereignty, an American is a citizen both of the federal entity and of his or her state of domicile. Four states use the official title of...
, and it grew following the U.S.