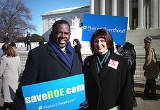 Pro-choice
Support for the legalization of abortion
is centered around the
pro-choice
movement, a sociopolitical movement supporting the
ethical
Ethics
Ethics, also known as moral philosophy, is a branch of philosophy that addresses questions about morality—that is, concepts such as good and evil, right and wrong, virtue and vice, justice and crime, etc.Major branches of ethics include:...
view that a woman should have the legal right to elective
abortion
Abortion
Abortion is defined as the termination of pregnancy by the removal or expulsion from the uterus of a fetus or embryo prior to viability. An abortion can occur spontaneously, in which case it is usually called a miscarriage, or it can be purposely induced...
, meaning the right to terminate her
pregnancy
Pregnancy
Pregnancy refers to the fertilization and development of one or more offspring, known as a fetus or embryo, in a woman's uterus. In a pregnancy, there can be multiple gestations, as in the case of twins or triplets...
.
A key point in the development of the movement was the decriminalization and legalization of elective abortion in various
states
U.S. state
A U.S. state is any one of the 50 federated states of the United States of America that share sovereignty with the federal government. Because of this shared sovereignty, an American is a citizen both of the federal entity and of his or her state of domicile. Four states use the official title of...
following the U.S.