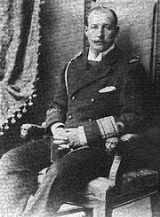 Prince George of Greece and Denmark
On 21 February 1957 Princess Marie and her husband celebrated their golden wedding anniversary. Prince George died 25 November 1957, aged eighty-eight, the longest-living dynast of the
House of Oldenburg
House of Oldenburg
The House of Oldenburg is a North German dynasty and one of Europe's most influential Royal Houses with branches that rule or have ruled in Denmark, Russia, Greece, Norway, Schleswig, Holstein, Oldenburg and Sweden...
of his generation. He was buried at Tatoi Royal Cemetery with Danish and Greek flags, his wedding ring, a lock of Valdemar's hair, a photo of Valdemar, and earth from Bernstorff.
Georgioupolis, a coastal resort between Chania and Rethimno, was named after Prince George.
Titles and styles
24 June 1869–25 November 1957: His Royal Highness Prince George of Greece and Denmark
Ancestry