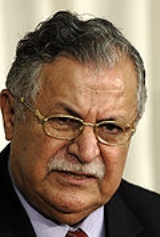 President of Iraq
The
President of Iraq
is the
head of state
Head of State
A head of state is the individual that serves as the chief public representative of a monarchy, republic, federation, commonwealth or other kind of state. His or her role generally includes legitimizing the state and exercising the political powers, functions, and duties granted to the head of...
of
Iraq
Iraq
Iraq ; officially the Republic of Iraq is a country in Western Asia spanning most of the northwestern end of the Zagros mountain range, the eastern part of the Syrian Desert and the northern part of the Arabian Desert....
and "safeguards the commitment to the Constitution and the preservation of Iraq's independence, sovereignty, unity, the security of its territories in accordance with the provisions of the Constitution." The President is elected by the Council of Representatives by a two-thirds majority, and is
limited
Term limit
A term limit is a legal restriction that limits the number of terms a person may serve in a particular elected office. When term limits are found in presidential and semi-presidential systems they act as a method to curb the potential for monopoly, where a leader effectively becomes "president for...
to two four-year terms. The President ratifies treaties and laws passed by the Council of Representatives, issues
pardon
Pardon
Clemency means the forgiveness of a crime or the cancellation of the penalty associated with it. It is a general concept that encompasses several related procedures: pardoning, commutation, remission and reprieves...
s on the recommendation of the
Prime Minister
Prime Minister of Iraq
The Prime Minister of Iraq is Iraq's head of government. Prime Minister was originally an appointed office, subsidiary to the head of state, and the nominal leader of the Iraqi parliament. Under the newly adopted constitution the Prime Minister is to be the country's active executive authority...
, and performs the "duty of the Higher Command of the armed forces for ceremonial and honorary purposes."
See also