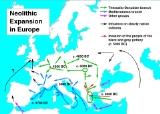 Pre-Indo-European
Not to be confused is the term "Old European" as used by Hans Krahe

Hans Krahe

Hans Krahe was a German philologist and linguist, specializing over many decades in the Illyrian languages. He was born at Gelsenkirchen....


in connection with hydronymy

Old European hydronymy

Old European is the term used by Hans Krahe for the language of the oldest reconstructed stratum of European hydronymy in Central and Western Europe...


.
Old Europe
is a term coined by archaeologist
Marija Gimbutas
Marija Gimbutas
Marija Gimbutas , was a Lithuanian-American archeologist known for her research into the Neolithic and Bronze Age cultures of "Old Europe", a term she introduced. Her works published between 1946 and 1971 introduced new views by combining traditional spadework with linguistics and mythological...
to describe what she perceives as a relatively homogeneous and widespread
pre-Indo-European
Pre-Indo-European
Old Europe is a term coined by archaeologist Marija Gimbutas to describe what she perceives as a relatively homogeneous and widespread pre-Indo-European Neolithic culture in Europe, particularly in Malta and the Balkans....
Neolithic
Neolithic Europe
Neolithic Europe refers to a prehistoric period in which Neolithic technology was present in Europe. This corresponds roughly to a time between 7000 BC and c. 1700 BC...
culture in Europe, particularly in
Malta
Megalithic Temples of Malta
The Megalithic Temples of Malta are a series of prehistoric monuments in Malta of which seven are UNESCO World Heritage Sites. Archaeologists believe that these megalithic complexes are the result of local innovations in a process of cultural evolution...
and the
Balkans
Prehistoric Balkans
The prehistory of Southeastern Europe , defined roughly as the territory of the wider Balkans peninsula covers the period from the Upper Paleolithic, beginning with the presence of Homo sapiens in the area some 44,000 years ago, until the...
.
In her major work,
The Goddesses and Gods of Old Europe: 6500–3500 B.C.
(1982), she refers to these Neolithic cultures as
Old Europe.
Archaeologists and ethnographers working within her framework believe that the evidence points to migrations of the peoples who spoke
Indo-European languages
Indo-European languages
The Indo-European languages are a family of several hundred related languages and dialects, including most major current languages of Europe, the Iranian plateau, and South Asia and also historically predominant in Anatolia...
at the beginning of the
Bronze age
Bronze Age
The Bronze Age is a period characterized by the use of copper and its alloy bronze as the chief hard materials in the manufacture of some implements and weapons. Chronologically, it stands between the Stone Age and Iron Age...
(the
Kurgan hypothesis
Kurgan hypothesis
The Kurgan hypothesis is one of the proposals about early Indo-European origins, which postulates that the people of an archaeological "Kurgan culture" in the Pontic steppe were the most likely speakers of the Proto-Indo-European language...
).