 Practice pad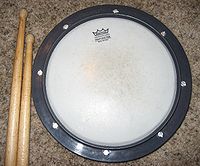 A Practice Pad, or Drum Pad, is a type of percussion implement utilized by drummers and percussionists to quietly warm up before a performance or practice musical material. Since sometimes great amounts of time are contributed by drummers practicing on drum pads via their allowance for a much subtler volume level and general ease of application, several variances have been created to equip in this area.
In recent years, many different types of practice pads have been designed. These implements may commonly include the use of both an actual disk of mylar or similar element (equivalent to material used in the construction of true drumheads). This typically is stretched over an underlying buffer, affixed by way of a rim of metal or plastic to an underlying rigid surface to approximate the stretch and reflection similar to that a true drumhead when struck, such as REMO's
RT
series drum practice pad (featured). Many more modern devices utilize a thin layer of elastomer, such as natural gum rubber or synthetic rubber equivalent consisting of various densities as a playing surface. This type of rubber surface, (having become a significantly standard appliance when fabricating most modern practice drum pads), is either placed directly over the top of an existing drumhead in some form, or adhered onto the top of a dense and flat substrate (usually wood) allowing for the material to reflect a drumstick or mallet after being struck, which generally bears a response and "feel" similar to that of a true drumhead.
Practice pad implements can be constructed in a variety of shapes and sizes, and by typical design, may be adequately compact (thin) and lightweight for ease in transport. Many variances include harder or softer playing surfaces, non-skid bases (that can also double as muted playing surfaces), receivers affixed to or embedded onto the base of the implement to allow for attachment to existing percussion hardware, a cymbal stand thread or snare drum stand for example. Modification to the base of the device can be fashioned to rest affixed via a strap to the player's knee. A simulation of snare-drum-style resonance can be implied via various hardware features added to the implement. These devices can be placed on a myriad of surfaces, including directly onto the top batter head of an actual 14" snare drum or other drum (one possessing a true rim bearing a diameter greater than the total span of the base of the device), which, when struck, could have the added effect of transferring to the drum's natural snare-side response along with severely muting the sound of the drum. Several like units are often mounted in an array, akin to that of a standard drum kit assemblage for practice purposes, and so on.
Some companies that manufacture drum pads include HQ Percussion, Vic Firth, Sabian, Verve, Xymox, Promark, Remo and OffWorld Percussion™.