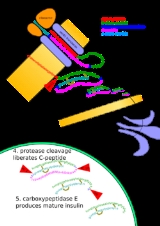 Posttranslational modification
Posttranslational modification
(PTM) is the
chemical
Chemistry
Chemistry is the science of matter, especially its chemical reactions, but also its composition, structure and properties. Chemistry is concerned with atoms and their interactions with other atoms, and particularly with the properties of chemical bonds....
modification of a
protein
Protein
Proteins are biochemical compounds consisting of one or more polypeptides typically folded into a globular or fibrous form, facilitating a biological function. A polypeptide is a single linear polymer chain of amino acids bonded together by peptide bonds between the carboxyl and amino groups of...
after its translation. It is one of the later steps in
protein biosynthesis
Protein biosynthesis
Protein biosynthesis is the process in which cells build or manufacture proteins. The term is sometimes used to refer only to protein translation but more often it refers to a multi-step process, beginning with amino acid synthesis and transcription of nuclear DNA into messenger RNA, which is then...
, and thus
gene expression
Gene expression
Gene expression is the process by which information from a gene is used in the synthesis of a functional gene product. These products are often proteins, but in non-protein coding genes such as ribosomal RNA , transfer RNA or small nuclear RNA genes, the product is a functional RNA...
, for many proteins.
A protein (also called a polypeptide) is a chain of
amino acid
Amino acid
Amino acids are molecules containing an amine group, a carboxylic acid group and a side-chain that varies between different amino acids. The key elements of an amino acid are carbon, hydrogen, oxygen, and nitrogen...
s. During protein synthesis, 20 different amino acids can be incorporated to become a protein. After translation, the posttranslational modification of amino acids extends the range of functions of the protein by attaching it to other biochemical
functional group
Functional group
In organic chemistry, functional groups are specific groups of atoms within molecules that are responsible for the characteristic chemical reactions of those molecules. The same functional group will undergo the same or similar chemical reaction regardless of the size of the molecule it is a part of...
s (such as
acetate
Acetate
An acetate is a derivative of acetic acid. This term includes salts and esters, as well as the anion found in solution. Most of the approximately 5 billion kilograms of acetic acid produced annually in industry are used in the production of acetates, which usually take the form of polymers. In...
,
phosphate
Phosphate
A phosphate, an inorganic chemical, is a salt of phosphoric acid. In organic chemistry, a phosphate, or organophosphate, is an ester of phosphoric acid. Organic phosphates are important in biochemistry and biogeochemistry or ecology. Inorganic phosphates are mined to obtain phosphorus for use in...
, various
lipid
Lipid
Lipids constitute a broad group of naturally occurring molecules that include fats, waxes, sterols, fat-soluble vitamins , monoglycerides, diglycerides, triglycerides, phospholipids, and others...
s and
carbohydrate
Carbohydrate
A carbohydrate is an organic compound with the empirical formula ; that is, consists only of carbon, hydrogen, and oxygen, with a hydrogen:oxygen atom ratio of 2:1 . However, there are exceptions to this. One common example would be deoxyribose, a component of DNA, which has the empirical...
s), changing the chemical nature of an amino acid (e.g.