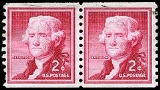 Postage stamp separation
For
postage stamp
Postage stamp
A postage stamp is a small piece of paper that is purchased and displayed on an item of mail as evidence of payment of postage. Typically, stamps are made from special paper, with a national designation and denomination on the face, and a gum adhesive on the reverse side...
s,
separation
is the means by which individual stamps are made easily detachable from each other.
Methods of separation include:
perforation

Perforation

A perforation is a small hole in a thin material or web. There is usually more than one perforation in an organized fashion, where all of the holes are called a perforation...


: cutting rows and columns of small holes
rouletting: small horizontal and vertical cuts
diecutting: cut paper to shape using a metal die—used for self-adhesive stamp

Self-adhesive stamp

A self-adhesive stamp is a postage stamp with a pressure sensitive adhesive that does not require moistening in order to adhere to paper. They are usually issued on a removable backing paper....


s.
In the early years, from 1840 until 1850, all stamps were issued
imperforate
, and had to be cut from the sheet with scissors or knife.