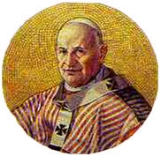 Pope John XXIII
Following the death of Pope Pius XII in 1958, Roncalli was elected Pope, to his great surprise. He had even arrived in the Vatican with a return train ticket to
Venice
Venice
Venice is a city in northern Italy which is renowned for the beauty of its setting, its architecture and its artworks. It is the capital of the Veneto region...
. Many had considered Giovanni Battista Montini, Archbishop of Milan, a possible candidate, but, although archbishop of one of the most ancient and prominent
sees
Episcopal See
An episcopal see is, in the original sense, the official seat of a bishop. This seat, which is also referred to as the bishop's cathedra, is placed in the bishop's principal church, which is therefore called the bishop's cathedral...
in Italy, he had not yet been made a cardinal. Though his absence from the 1958 conclave did not make him ineligible - under
Canon Law
Canon law (Catholic Church)
The canon law of the Catholic Church, is a fully developed legal system, with all the necessary elements: courts, lawyers, judges, a fully articulated legal code and principles of legal interpretation. It lacks the necessary binding force present in most modern day legal systems. The academic...
any Catholic male may be elected - the
College of Cardinals
College of Cardinals
The College of Cardinals is the body of all cardinals of the Catholic Church.A function of the college is to advise the pope about church matters when he summons them to an ordinary consistory. It also convenes on the death or abdication of a pope as a papal conclave to elect a successor...
usually chose the new Pope out of their midst.
After the long pontificate of Pope Pius XII, the cardinals chose a man who – it was presumed because of his advanced age – would be a short-term or "stop-gap" pope.