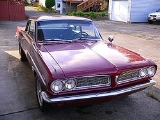 Pontiac Tempest
The
Pontiac Tempest
was an entry-level
compact
Compact car
A compact car , or small family car , is a classification of cars which are larger than a supermini but smaller than or equal to a mid-size car...
produced by the
Pontiac Motor Division
Pontiac
Pontiac was an automobile brand that was established in 1926 as a companion make for General Motors' Oakland. Quickly overtaking its parent in popularity, it supplanted the Oakland brand entirely by 1933 and, for most of its life, became a companion make for Chevrolet. Pontiac was sold in the...
of
General Motors
General Motors
General Motors Company , commonly known as GM, formerly incorporated as General Motors Corporation, is an American multinational automotive corporation headquartered in Detroit, Michigan and the world's second-largest automaker in 2010...
, introduced in September 1960 for the 1961 model year.
Sharing the new
monocoque
Monocoque
Monocoque is a construction technique that supports structural load by using an object's external skin, as opposed to using an internal frame or truss that is then covered with a non-load-bearing skin or coachwork...
(unibody)
Y platform
GM Y platform
The Y platform, or Y body, designation has been used twice by the General Motors Corporation to describe a series of vehicles all built on the same basic body and sharing many parts and characteristics...
with the
Buick Special
Buick Special
In 1962, the Special was the first American car to use a V6 engine in volume production; it earned Motor Trends Car of the Year for 1962. This 198 in³ Fireball was engineered down from the 215 and used many of the same design parameters, but was cast in iron. Output was 135 hp at...
and
Skylark
Buick Skylark
The Buick Skylark was a passenger car produced by the Buick division of General Motors. The model was made in six production runs. In each run, the car design varied dramatically due to changing technology and tastes, as well as new standards implemented over the years.-1953–1954:Introduced to mark...
, and Oldsmobile F-85 and
Cutlass
Oldsmobile Cutlass
The Oldsmobile Cutlass is a line of automobiles made by the Oldsmobile division of General Motors. The Cutlass began as a unibody compact car, but saw its greatest success as a body-on-frame intermediate car....
, the model also appeared under the
LeMans
Pontiac LeMans
The Pontiac LeMans was a model name applied to compact and intermediate-sized automobiles offered by the Pontiac division of General Motors from 1962 to 1981. The LeMans was replaced by the downsized Pontiac Bonneville for the 1982 model year...
nameplate (largely beginning with the 1962 model year, though Pontiac also manufactured a few 1961 LeMans coupes).
For 1964, the platform was redesigned with a full-size frame, and renamed
A-body
GM A platform
The General Motors A platform was a mid-size car automobile platform. The A-bodies evolved from rear wheel drive compacts, to rear wheel drive mid-size cars, to front wheel drive mid-size cars over the course of 32 years. The switch in drive layout in 1982 spawned the G-body...
.