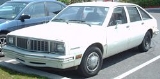 Pontiac Phoenix
In 1980, the Phoenix was downsized and moved to front wheel drive, and was available as 2-door
coupe
Coupé
A coupé or coupe is a closed car body style , the precise definition of which varies from manufacturer to manufacturer, and over time...
or a 5-door
hatchback
Hatchback
A Hatchback is a car body style incorporating a shared passenger and cargo volume, with rearmost accessibility via a rear third or fifth door, typically a top-hinged liftgate—and features such as fold-down rear seats to enable flexibility within the shared passenger/cargo volume. As a two-box...
. The base, LJ, and SJ models were still available for this generation. There was a minor exterior refresh in 1983 (including a name change for the LJ and SJ to LE and SE, respectively).
Available engines were a
2.5 L
GM Iron Duke engine
Iron Dukes were fitted with fuel injection in 1982. This version was christened the Tech IV, though Car and Driver later ridiculed it as the low-Tech IV. Power output remained at ....
4 cylinder and a
2.8 L V6
GM 60-Degree V6 engine
The General Motors 60° V6 family of engines began with the 1980 Chevrolet 2.8 L V6 and continues to be produced today . Its use in the X-body cars leads some to refer to it as the X engine.It is a 60° vee block with pushrod heads, except for a single DOHC member, the LQ1...
, mated to a 3 speed
automatic
Automatic transmission
An automatic transmission is one type of motor vehicle transmission that can automatically change gear ratios as the vehicle moves, freeing the driver from having to shift gears manually...
or 4 speed
manual transmission
Manual transmission
A manual transmission, also known as a manual gearbox or standard transmission is a type of transmission used in motor vehicle applications...
.
As with its sister cars (the
Chevrolet Citation
Chevrolet Citation
The Chevrolet Citation was a compact car sold by the Chevrolet brand of American automaker General Motors for model years 1980-1985. The Citation and its X-body siblings were among GM's first front wheel drive compact cars, following the trend of front drive compacts such as the Honda Accord...
,
Buick Skylark
Buick Skylark
The Buick Skylark was a passenger car produced by the Buick division of General Motors. The model was made in six production runs. In each run, the car design varied dramatically due to changing technology and tastes, as well as new standards implemented over the years.-1953–1954:Introduced to mark...
and
Oldsmobile Omega
Oldsmobile Omega
The Omega was one of 2 more X-body Chevrolet Nova clones introduced in 1973 . Naturally it shared the Nova's body and many of its mechanicals, but it had its own unique nose and tail, and, being an Oldsmobile, it had a little fancier trim than the Nova...
), the Phoenix quickly became known and reviled for its poor build quality and numerous recalls, especially in the earlier models.
The car was replaced in 1985 by a revived
Grand Am
Pontiac Grand Am
The original Grand Am was introduced in the fall of 1972 as a 1973 model. It was based on the GM A platform along with other cars such as the Pontiac LeMans, Pontiac GTO, Chevrolet Chevelle, Buick Century, and the Oldsmobile Cutlass Supreme...
on the FWD
GM N-body platform
GM N platform
The General Motors N platform was a front-wheel drive compact automotive platform produced from 1985 to 2005. The GM N platform replaced the GM X platform....
.