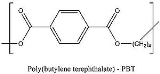 Polybutylene terephthalate
Polybutylene terephthalate
(
PBT
) is a thermoplastic engineering polymer, that is used as an
insulator
Electrical insulation
thumb|250px|[[Coaxial Cable]] with dielectric insulator supporting a central coreThis article refers to electrical insulation. For insulation of heat, see Thermal insulation...
in the
electrical
Electricity
Electricity is a general term encompassing a variety of phenomena resulting from the presence and flow of electric charge. These include many easily recognizable phenomena, such as lightning, static electricity, and the flow of electrical current in an electrical wire...
and
electronics
Electronics
Electronics is the branch of science, engineering and technology that deals with electrical circuits involving active electrical components such as vacuum tubes, transistors, diodes and integrated circuits, and associated passive interconnection technologies...
industries. It is a
thermoplastic
Thermoplastic
Thermoplastic, also known as a thermosoftening plastic, is a polymer that turns to a liquid when heated and freezes to a very glassy state when cooled sufficiently...
(semi-)crystalline
polymer
Polymer
A polymer is a large molecule composed of repeating structural units. These subunits are typically connected by covalent chemical bonds...
, and a type of
polyester
Polyester
Polyester is a category of polymers which contain the ester functional group in their main chain. Although there are many polyesters, the term "polyester" as a specific material most commonly refers to polyethylene terephthalate...
. PBT is resistant to solvents, shrinks very little during forming, is mechanically strong, heat-resistant up to (or with
glass-fibre
Fiberglass
Glass fiber is a material consisting of numerous extremely fine fibers of glass.Glassmakers throughout history have experimented with glass fibers, but mass manufacture of glass fiber was only made possible with the invention of finer machine tooling...
reinforcement) and can be treated with
flame retardant
Flame retardant
Flame retardants are chemicals used in thermoplastics, thermosets, textiles and coatings that inhibit or resist the spread of fire. These can be separated into several different classes of chemicals:...
s to make it noncombustible.
PBT is closely related to other thermoplastic polyesters. Compared to PET (
polyethylene terephthalate
Polyethylene terephthalate
Polyethylene terephthalate , commonly abbreviated PET, PETE, or the obsolete PETP or PET-P, is a thermoplastic polymer resin of the polyester family and is used in synthetic fibers; beverage, food and other liquid containers; thermoforming applications; and engineering resins often in combination...
), PBT has slightly lower strength and rigidity, slightly better impact resistance, and a slightly lower glass transition temperature. PBT and PET are sensitive to hot water above (140F). PBT and PET need
UV
Ultraviolet
Ultraviolet light is electromagnetic radiation with a wavelength shorter than that of visible light, but longer than X-rays, in the range 10 nm to 400 nm, and energies from 3 eV to 124 eV...
protection if used outdoors, and most grades of these polyesters are flammable, although additives can be used to improve both UV and flammability properties.
Application
Polybutylene terephthalate is used for housings in electrical engineering, but also in automotive construction as plug connectors and in households for example in showerheads or irons. It is also found processed into fibers in toothbrushes.
Trade Names
Anjacom (almaak international)
Arnite (DSM)
Celanex, Vandar polyester alloy (Ticona

Ticona

Ticona is an international manufacturer of engineering polymers. The company's head office is located at the Ticona/Celanese-Plant in Florence, Kentucky, USA, since 2005.-Company history:...


)
Crastin (DuPont

DuPont

E. I. du Pont de Nemours and Company , commonly referred to as DuPont, is an American chemical company that was founded in July 1802 as a gunpowder mill by Eleuthère Irénée du Pont. DuPont was the world's third largest chemical company based on market capitalization and ninth based on revenue in 2009...


)
Pocan (Lanxess

Lanxess

Lanxess AG is a specialty chemicals group based in Germany, with headquarters and major operations in Leverkusen. It was founded in 2004 when Bayer AG spun off its chemicals operations and parts of its polymer activities. As measured by sales, Lanxess is the fourth largest chemicals group in Germany...


)
Ultradur (BASF

BASF

BASF SE is the largest chemical company in the world and is headquartered in Germany. BASF originally stood for Badische Anilin- und Soda-Fabrik . Today, the four letters are a registered trademark and the company is listed on the Frankfurt Stock Exchange, London Stock Exchange, and Zurich Stock...


)
Valox (before GE Plastics, now SABIC Innovative Plastics

SABIC

SABIC is a diversified manufacturing company, active in chemicals and intermediates, industrial polymers, fertilizers and metals. It is the largest public company in Saudi Arabia as listed in Tadawul, but the Saudi government still owns 70% of its shares...


)
Schuladur (A. Schulman)
Later (LATI)
Kebater (BARLOG plastics)
VESTODUR (Evonik Degussa)