 Pokrovskoye, Tyumen Oblast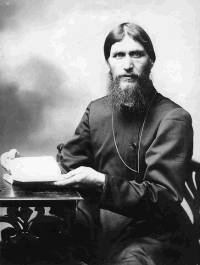 Pokrovskoye
is a village (
selo
) in
Tyumen Oblast
Tyumen Oblast
Tyumen Oblast is a federal subject of Russia . Its administrative center is the city of Tyumen. The oblast has administrative jurisdiction over two autonomous okrugs—Khanty-Mansi Autonomous Okrug and Yamalo-Nenets Autonomous Okrug. Tyumen is the largest city, with over half a million inhabitants...
,
Russia
Russia
Russia or , officially known as both Russia and the Russian Federation , is a country in northern Eurasia. It is a federal semi-presidential republic, comprising 83 federal subjects...
. It is the birthplace of
Grigori Rasputin
Grigori Rasputin
Grigori Yefimovich Rasputin was a Russian Orthodox Christian and mystic who is perceived as having influenced the latter days of the Russian Emperor Nicholas II, his wife Alexandra, and their only son Alexei...
. Following the 1917 abdication and subsequent exile of
Tsar
Tsar
Tsar is a title used to designate certain European Slavic monarchs or supreme rulers. As a system of government in the Tsardom of Russia and Russian Empire, it is known as Tsarist autocracy, or Tsarism...
Nicholas II and his family, they were sent by train into Siberia, to which they passed through the modern-looking village of Pokrovskoye. This served as fulfilment of one of Rasputin's predictions that the entire Romanov family would see his native village.