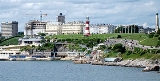 Plymouth
Plymouth
is a
city
City status in the United Kingdom
City status in the United Kingdom is granted by the British monarch to a select group of communities. The holding of city status gives a settlement no special rights other than that of calling itself a "city". Nonetheless, this appellation carries its own prestige and, consequently, competitions...
and
unitary authority area
Unitary authority
A unitary authority is a type of local authority that has a single tier and is responsible for all local government functions within its area or performs additional functions which elsewhere in the relevant country are usually performed by national government or a higher level of sub-national...
on the coast of
Devon
Devon
Devon is a large county in southwestern England. The county is sometimes referred to as Devonshire, although the term is rarely used inside the county itself as the county has never been officially "shired", it often indicates a traditional or historical context.The county shares borders with...
, England, about 190 miles (305.8 km) south-west of London. It is built between the mouths of the rivers
Plym
River Plym
The River Plym is a river in Devon, England. Its source is some 450m above sea level on Dartmoor, in an upland marshy area called Plym Head. From the upper reaches which contain antiquities and mining remains the river flows roughly southwest and enters the sea near to the city of Plymouth, where...
to the east and
Tamar
River Tamar
The Tamar is a river in South West England, that forms most of the border between Devon and Cornwall . It is one of several British rivers whose ancient name is assumed to be derived from a prehistoric river word apparently meaning "dark flowing" and which it shares with the River Thames.The...
to the west, where they join
Plymouth Sound
Plymouth Sound
Plymouth Sound, or locally just The Sound, is a bay at Plymouth in England.Its southwest and southeast corners are Penlee Point in Cornwall and Wembury Point on Devon, a distance of about 3 nautical miles . Its northern limit is Plymouth Hoe giving a north-south distance of nearly 3 nautical miles...
. Since 1967 the City of Plymouth has included the suburbs of
Plympton
Plympton
Plympton, or Plympton Maurice or Plympton St Maurice or Plympton St Mary or Plympton Erle, in south-western Devon, England is an ancient stannary town: an important trading centre in the past for locally mined tin, and a former seaport...
and
Plymstock
Plymstock
Plymstock is a civil parish and commuter suburb of Plymouth in the English county of Devon.The earliest surviving documentary reference to the place is as Plemestocha in the Domesday Book and its name is derived from Old English meaning either "outlying farm with a plum-tree" or, if it is short for...
, which are on the east side of the River Plym.
Plymouth's history goes back to the
Bronze Age
Bronze Age
The Bronze Age is a period characterized by the use of copper and its alloy bronze as the chief hard materials in the manufacture of some implements and weapons. Chronologically, it stands between the Stone Age and Iron Age...
, when its first settlement grew at
Mount Batten
Mount Batten
Mount Batten is a 24-metre-tall outcrop of rock on a 600-metre peninsula in Plymouth Sound, Devon, England.After some redevelopment which started with the area coming under the control of the Plymouth Development Corporation for five years from 1993, the peninsula now has a marina and centre for...
.