 Pigeonholing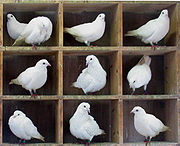 Pigeonholing
is a term used to describe processes that attempt to classify disparate entities into a small number of categories (usually, mutually exclusive ones).
The expression usually carries connotations of criticism, implying that the classification scheme referred to inadequately reflects the entities being sorted, or that it is based on
stereotype
Stereotype
A stereotype is a popular belief about specific social groups or types of individuals. The concepts of "stereotype" and "prejudice" are often confused with many other different meanings...
s.
Common failings of pigeonholing schemes include:
Categories are poorly defined (often because they are subjective

Subjectivity

Subjectivity refers to the subject and his or her perspective, feelings, beliefs, and desires. In philosophy, the term is usually contrasted with objectivity.-Qualia:...


).
Entities may be suited to more than one category. Example: rhubarb

Rhubarb

Rhubarb is a group of plants that belong to the genus Rheum in the family Polygonaceae. They are herbaceous perennial plants growing from short, thick rhizomes. They have large leaves that are somewhat triangular-shaped with long fleshy petioles...


is both 'poisonous' and 'edible'.
Entities may not fit into any available category. Example: asking somebody from Washington, DC which state they live in.
Entities may change over time, so they no longer fit the category in which they have been placed. Example: certain species of fish

Fish

Fish are a paraphyletic group of organisms that consist of all gill-bearing aquatic vertebrate animals that lack limbs with digits. Included in this definition are the living hagfish, lampreys, and cartilaginous and bony fish, as well as various extinct related groups...


may change from male to female during their life.
Attempting to discretize properties that would be better viewed as a continuum

Continuum (theory)

Continuum theories or models explain variation as involving a gradual quantitative transition without abrupt changes or discontinuities. It can be contrasted with 'categorical' models which propose qualitatively different states.-In physics:...


. Example: attempting to sort people into 'introverted

Extraversion and introversion

The trait of extraversion-introversion is a central dimension of human personality theories.Extraverts tend to be gregarious, assertive, and interested in seeking out external stimulus. Introverts, in contrast, tend to be introspective, quiet and less sociable. They are not necessarily loners but...


' and 'extroverted'.
Criteria used to categorize entities do not accurately predict the properties ascribed to those categories. Example: relying on astrological sign

Astrological sign

Astrological signs represent twelve equal segments or divisions of the zodiac. According to astrology, celestial phenomena reflect or govern human activity on the principle of "as above, so below", so that the twelve signs are held to represent twelve basic personality types or characteristic modes...


as a guide to someone's personality.