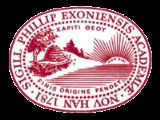 Phillips Exeter Academy
Phillips Exeter Academy
is a private
secondary school
Secondary school
Secondary school is a term used to describe an educational institution where the final stage of schooling, known as secondary education and usually compulsory up to a specified age, takes place...
located in
Exeter, New Hampshire
Exeter, New Hampshire
Exeter is a town in Rockingham County, New Hampshire, United States. The town's population was 14,306 at the 2010 census. Exeter was the county seat until 1997, when county offices were moved to neighboring Brentwood...
, in the
United States
United States
The United States of America is a federal constitutional republic comprising fifty states and a federal district...
.
Exeter is noted for its application of
Harkness education
Harkness table
The Harkness table is a large, oval table used in a style of teaching, The Harkness Method, wherein students sit at the table with their teachers. This teaching method is in use at many American boarding schools and colleges. It encourages classes to be held in a discursive manner...
, a system based on a conference format of teacher and student interaction, similar to the
Socratic method
Socratic method
The Socratic method , named after the classical Greek philosopher Socrates, is a form of inquiry and debate between individuals with opposing viewpoints based on asking and answering questions to stimulate critical thinking and to illuminate ideas...
of learning through asking questions and creating discussions. The school also differs from conventional public
U.S.
United States
The United States of America is a federal constitutional republic comprising fifty states and a federal district...
high schools
High school
High school is a term used in parts of the English speaking world to describe institutions which provide all or part of secondary education. The term is often incorporated into the name of such institutions....
which do not charge
tuition
Tuition
Tuition payments, known primarily as tuition in American English and as tuition fees in British English, Canadian English, Australian English, New Zealand English and Indian English, refers to a fee charged for educational instruction during higher education.Tuition payments are charged by...
, maintain
open admissions
Open admissions
Open admissions is a type of unselective and non-competitive college admissions process in the United States in which the only criterion for entrance is a high school diploma or a General Educational Development certificate.This form of "inclusive" admissions is used by many public junior...
, do not provide
on campus housing
Dormitory
A dormitory, often shortened to dorm, in the United States is a residence hall consisting of sleeping quarters or entire buildings primarily providing sleeping and residential quarters for large numbers of people, often boarding school, college or university students...
and are owned and managed by independent school districts and municipal and
state
U.S. state
A U.S. state is any one of the 50 federated states of the United States of America that share sovereignty with the federal government. Because of this shared sovereignty, an American is a citizen both of the federal entity and of his or her state of domicile. Four states use the official title of...
governments.