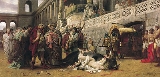 Persecution of Christians
Persecution of Christians
as a consequence of professing their faith can be traced both historically and in the current era. Early Christians were persecuted for their faith, at the hands of both
Jews
Jews
The Jews , also known as the Jewish people, are a nation and ethnoreligious group originating in the Israelites or Hebrews of the Ancient Near East. The Jewish ethnicity, nationality, and religion are strongly interrelated, as Judaism is the traditional faith of the Jewish nation...
from whose religion Christianity arose, and the
Roman Empire
Roman Empire
The Roman Empire was the post-Republican period of the ancient Roman civilization, characterised by an autocratic form of government and large territorial holdings in Europe and around the Mediterranean....
which controlled much of the land early Christianity was distributed across. This continued from the 1st century until the early 4th, when the religion was legalized by Constantine I.