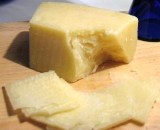 Pecorino Romano
Pecorino Romano
is a hard, salty
Italian
Italian cuisine
Italian cuisine has developed through centuries of social and political changes, with roots as far back as the 4th century BCE. Italian cuisine in itself takes heavy influences, including Etruscan, ancient Greek, ancient Roman, Byzantine, Jewish and Arab cuisines...
cheese
Cheese
Cheese is a generic term for a diverse group of milk-based food products. Cheese is produced throughout the world in wide-ranging flavors, textures, and forms....
, suitable primarily for
grating
Grater
A grater is a kitchen utensil used to grate foods into fine pieces. It was invented by François Boullier in the 1540s.-Uses:...
, made out of
sheep milk
Sheep milk
Sheep's milk is the milk of domestic sheep. Though not widely drunk in any modern culture, sheep's milk is commonly used to make cultured dairy products. Well-known cheeses made from sheep milk include the Feta of Greece, Roquefort of France, Manchego from Spain, the Pecorino Romano , the Pecorino...
(the
Italian
Italian language
Italian is a Romance language spoken mainly in Europe: Italy, Switzerland, San Marino, Vatican City, by minorities in Malta, Monaco, Croatia, Slovenia, France, Libya, Eritrea, and Somalia, and by immigrant communities in the Americas and Australia...
word
pecora
, from which the name derives, means
sheep
). Pecorino Romano was produced in
Latium
Latium
Lazio is one of the 20 administrative regions of Italy, situated in the central peninsular section of the country. With about 5.7 million residents and a GDP of more than 170 billion euros, Lazio is the third most populated and the second richest region of Italy...
up to 1884 when, due to the prohibition issued by the city council of salting the cheese inside their shops in Rome, many producers moved to the island of
Sardinia
Sardinia
Sardinia is the second-largest island in the Mediterranean Sea . It is an autonomous region of Italy, and the nearest land masses are the French island of Corsica, the Italian Peninsula, Sicily, Tunisia and the Spanish Balearic Islands.The name Sardinia is from the pre-Roman noun *sard[],...
. It is produced exclusively from the milk of sheep raised on the plains of Lazio and in Sardinia.