 Paul Gasq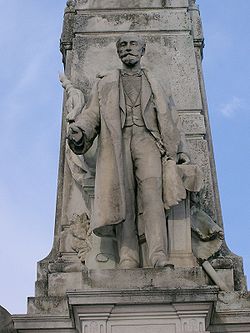 Paul Jean-Baptiste Gasq
(1860 - 1944) was a
French
France
The French Republic , The French Republic , The French Republic , (commonly known as France , is a unitary semi-presidential republic in Western Europe with several overseas territories and islands located on other continents and in the Indian, Pacific, and Atlantic oceans. Metropolitan France...
sculptor, born in
Dijon
Dijon
Dijon is a city in eastern France, the capital of the Côte-d'Or département and of the Burgundy region.Dijon is the historical capital of the region of Burgundy. Population : 151,576 within the city limits; 250,516 for the greater Dijon area....
.
Life
Gasq was a student at the Dijon School of Fine Arts and the
École des Beaux-Arts
École des Beaux-Arts
École des Beaux-Arts refers to a number of influential art schools in France. The most famous is the École nationale supérieure des Beaux-Arts, now located on the left bank in Paris, across the Seine from the Louvre, in the 6th arrondissement. The school has a history spanning more than 350 years,...
in
Paris
Paris
Paris is the capital and largest city in France, situated on the river Seine, in northern France, at the heart of the Île-de-France region...
, where he took the
Prix de Rome
Prix de Rome
The Prix de Rome was a scholarship for arts students, principally of painting, sculpture, and architecture. It was created, initially for painters and sculptors, in 1663 in France during the reign of Louis XIV. It was an annual bursary for promising artists having proved their talents by...
in 1890. He also won a Grand Prix at the
Exposition Universelle (1900)
Exposition Universelle (1900)
The Exposition Universelle of 1900 was a world's fair held in Paris, France, from April 15 to November 12, 1900, to celebrate the achievements of the past century and to accelerate development into the next...
.
Work
marble group symbolizing National Education, at the tomb of Eugène Spuller

Eugène Spuller

Eugène Spuller was a French politician and writer.He was born at Seurre , his father being a German who had married and settled in France. After studying law at Dijon, he went to Paris, where he was called to the bar, and became close to Léon Gambetta, collaborating with him in 1868 in the...


, Père Lachaise Cemetery

Père Lachaise Cemetery

Père Lachaise Cemetery is the largest cemetery in the city of Paris, France , though there are larger cemeteries in the city's suburbs.Père Lachaise is in the 20th arrondissement, and is reputed to be the world's most-visited cemetery, attracting hundreds of thousands of visitors annually to the...


, Paris, circa 1896
Medea

Medea

Medea is a woman in Greek mythology. She was the daughter of King Aeëtes of Colchis, niece of Circe, granddaughter of the sun god Helios, and later wife to the hero Jason, with whom she had two children, Mermeros and Pheres. In Euripides's play Medea, Jason leaves Medea when Creon, king of...


, Jardin des Tuileries, 1896
marble and bronze

Bronze

Bronze is a metal alloy consisting primarily of copper, usually with tin as the main additive. It is hard and brittle, and it was particularly significant in antiquity, so much so that the Bronze Age was named after the metal...


statue of President Marie François Sadi Carnot

Marie François Sadi Carnot

Marie François Sadi Carnot was a French statesman and the fourth president of the Third French Republic. He served as the President of France from 1887 until his assassination in 1894.-Early life:...


, Dijon, Place de la Republique, 1899, in collaboration with Mathurin Moreau

Mathurin Moreau

Mathurin Moreau was a French sculptor in the academic style.Moreau was born in Dijon, first exhibited in the 1848 Salon, and finally received a medal of honor from the Salon in 1897...



marble group, The Glory of the Generals of the Revolution, at the Pantheon, Paris
facade allegorical

Allegory

Allegory is a demonstrative form of representation explaining meaning other than the words that are spoken. Allegory communicates its message by means of symbolic figures, actions or symbolic representation...


group La Révélation artistique (or Sculpture) at the Grand Palais

Grand Palais

This article contains material abridged and translated from the French and Spanish Wikipedia.The Grand Palais des Champs-Elysées, commonly known as the Grand Palais , is a large historic site, exhibition hall and museum complex located at the Champs-Élysées in the 8th arrondissement of Paris, France...


, Paris, 1900
Fountaine Subé, (with fellow sculptors Paul Auban and Louis Baralis), Reims

Reims

Reims , a city in the Champagne-Ardenne region of France, lies east-northeast of Paris. Founded by the Gauls, it became a major city during the period of the Roman Empire....


, 1906
architectural bronze Summer and Winter for the Whiteleys

Whiteleys

Whiteleys is a shopping centre in London, England. It was London's first department store, located in the Bayswater area. The store's main entrance was located on Queensway.-History:...


department store, Bayswater

Bayswater

Bayswater is an area of west London in the City of Westminster and the Royal Borough of Kensington and Chelsea to the west . It is a built-up district located 3 miles west-north-west of Charing Cross, bordering the north of Hyde Park over Kensington Gardens and having a population density of...


, London

London

London is the capital city of :England and the :United Kingdom, the largest metropolitan area in the United Kingdom, and the largest urban zone in the European Union by most measures. Located on the River Thames, London has been a major settlement for two millennia, its history going back to its...


, 1911
the relief La mobilisation 1914, war memorial in Dijon, 1923
monumental marine fountain, Willette Square, Montmarte, Paris, 1932