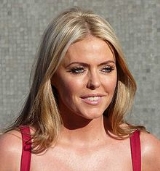 Patsy Kensit
Patricia Jude Francis "Patsy" Kensit
(born 4 March 1968) is an
English
English people
The English are a nation and ethnic group native to England, who speak English. The English identity is of early mediaeval origin, when they were known in Old English as the Anglecynn. England is now a country of the United Kingdom, and the majority of English people in England are British Citizens...
actress, singer, model and former child star, known for her television and film appearances. Her films include
Lethal Weapon 2
Lethal Weapon 2
Lethal Weapon 2 is a 1989 action comedy film directed by Richard Donner, and starring Mel Gibson, Danny Glover, Patsy Kensit, Joe Pesci, Derrick O'Connor and Joss Ackland...
and she has been married to rock stars
Jim Kerr
Jim Kerr
James "Jim" Kerr is a Scottish musician and singer-songwriter, best known for his work with the band Simple Minds who achieved five UK #1 albums and a #1 single "Ballad of the Streets EP". He released his first solo album, Lostboy! AKA Jim Kerr, on the 27 May 2010.- Simple Minds :Kerr attended...
and
Liam Gallagher
Liam Gallagher
William John Paul "Liam" Gallagher is an English musician and singer-songwriter, the former frontman of the English rock band Oasis and currently of the band Beady Eye. Gallagher's erratic behaviour, distinctive singing style, and abrasive attitude have been the subject of commentary in the press...
, as well as herself fronting the band
Eighth Wonder
Eighth Wonder
Eighth Wonder were a British pop band in the 1980s. They formed in 1983 and enjoyed major success in Japan and Italy between 1985 and 1987, before having hit singles in the UK and across Europe in 1988.-Early years:...
. In May 2004 she returned to television acting, taking the role of
Sadie King
Sadie King
Sadie Jacqueline King , was a fictional character on the ITV soap opera Emmerdale. She was played by Patsy Kensit...
in the ITV soap opera
Emmerdale
Emmerdale
Emmerdale, is a long-running British soap opera set in Emmerdale , a fictional village in the Yorkshire Dales. Created by Kevin Laffan, Emmerdale was first broadcast on 16 October 1972...
.
Born to James Henry Kensit (1915–1987) and Margaret Rose Kensit (née Doohan, 1947–1993), a native of Ireland who died from
breast cancer
Breast cancer
Breast cancer is cancer originating from breast tissue, most commonly from the inner lining of milk ducts or the lobules that supply the ducts with milk. Cancers originating from ducts are known as ductal carcinomas; those originating from lobules are known as lobular carcinomas...
, Patsy Kensit has an older brother Jamie.
All I want is to be more famous than anything or anyone. :