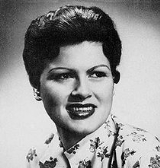 Patsy Cline
Patsy Cline born Virginia Patterson Hensley in
Gore, Virginia
Gore, Virginia
Gore is an unincorporated town in western Frederick County, Virginia, United States located off the Northwestern Turnpike on Gore Road west of Winchester. The community is nestled in the Back Creek valley....
, was an
American
United States
The United States of America is a federal constitutional republic comprising fifty states and a federal district...
country music
Country music
Country music is a popular American musical style that began in the rural Southern United States in the 1920s. It takes its roots from Western cowboy and folk music...
singer who enjoyed
pop music
Pop music
Pop music is usually understood to be commercially recorded music, often oriented toward a youth market, usually consisting of relatively short, simple songs utilizing technological innovations to produce new variations on existing themes.- Definitions :David Hatch and Stephen Millward define pop...
crossover success during the era of the
Nashville sound
Nashville sound
The Nashville sound originated during the late 1950s as a sub-genre of American country music, replacing the chart dominance of honky tonk music which was most popular in the 1940s and 1950s...
in the early 1960s. Since her death in 1963 at age 30 in a private airplane crash at the height of her career, she has been considered one of the most influential, successful, and acclaimed female vocalists of the 20th century.
Cline was best known for her rich tone and emotionally expressive bold
contralto
Contralto
Contralto is the deepest female classical singing voice, with the lowest tessitura, falling between tenor and mezzo-soprano. It typically ranges between the F below middle C to the second G above middle C , although at the extremes some voices can reach the E below middle C or the second B above...
voice, which, along with her role as a mover and shaker in the country music industry, has been cited as an inspiration by many vocalists of various music genres.
I don't wanna get rich — just live good.

From a 1955 bio sheet; reproduced in liner notes, The Patsy Cline Collection (MCA, 1992)
You don't appreciate home until you leave it and, let me tell you, you can't appreciate life till you've almost left it! Some people hope and die with their song still in them. I used to think that happiness resulted when my earnings matched my yearnings! But not anymore!

To her mother following the 1961 car accident