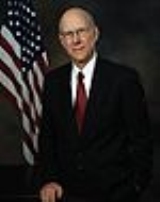 Pat Roberts
Charles Patrick "Pat" Roberts (born April 20, 1936) is the senior
United States
United States
The United States of America is a federal constitutional republic comprising fifty states and a federal district...
Senator
United States Senate
The United States Senate is the upper house of the bicameral legislature of the United States, and together with the United States House of Representatives comprises the United States Congress. The composition and powers of the Senate are established in Article One of the U.S. Constitution. Each...
from
Kansas
Kansas
Kansas is a US state located in the Midwestern United States. It is named after the Kansas River which flows through it, which in turn was named after the Kansa Native American tribe, which inhabited the area. The tribe's name is often said to mean "people of the wind" or "people of the south...
. A member of the
Republican Party
Republican Party (United States)
The Republican Party is one of the two major contemporary political parties in the United States, along with the Democratic Party. Founded by anti-slavery expansion activists in 1854, it is often called the GOP . The party's platform generally reflects American conservatism in the U.S...
, he has served since 1997. He is the ranking member of the United States Senate Committee on Agriculture and previously served as the Chairman of the Senate Select Committee on Intelligence.
Born in
Topeka, Kansas
Topeka, Kansas
Topeka |Kansa]]: Tó Pee Kuh) is the capital city of the U.S. state of Kansas and the county seat of Shawnee County. It is situated along the Kansas River in the central part of Shawnee County, located in northeast Kansas, in the Central United States. As of the 2010 census, the city population was...
, Roberts is a graduate of
Kansas State University
Kansas State University
Kansas State University, commonly shortened to K-State, is an institution of higher learning located in Manhattan, Kansas, in the United States...
. He served as a captain in the
U.S. Marine Corps
United States Marine Corps
The United States Marine Corps is a branch of the United States Armed Forces responsible for providing power projection from the sea, using the mobility of the United States Navy to deliver combined-arms task forces rapidly. It is one of seven uniformed services of the United States...
and worked as a newspaper reporter before entering politics in the late 1960s.