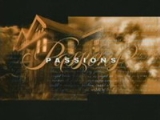 Passions
Passions
is an American television
soap opera
Soap opera
A soap opera, sometimes called "soap" for short, is an ongoing, episodic work of dramatic fiction presented in serial format on radio or as television programming. The name soap opera stems from the original dramatic serials broadcast on radio that had soap manufacturers, such as Procter & Gamble,...
which aired on
NBC
NBC
The National Broadcasting Company is an American commercial broadcasting television network and former radio network headquartered in the GE Building in New York City's Rockefeller Center with additional major offices near Los Angeles and in Chicago...
from July 5, 1999 to September 7, 2007 and on The 101 Network from September 17, 2007 to August 7, 2008.
Passions
follows the lives and loves, and various romantic and paranormal adventures of the residents of
Harmony
Harmony (passions)
Harmony is a fictional town and the setting for the NBC/DirecTV soap opera Passions, which ran from 1999 through 2008. A coastal New England town founded in 1646 with a small population, Harmony features a large fishing industry...
, a fictional
New England
New England
New England is a region in the northeastern corner of the United States consisting of the six states of Maine, New Hampshire, Vermont, Massachusetts, Rhode Island, and Connecticut...
hamlet. Storylines center around the interactions among members of its multi-racial core families — the
African American
African American
African Americans are citizens or residents of the United States who have at least partial ancestry from any of the native populations of Sub-Saharan Africa and are the direct descendants of enslaved Africans within the boundaries of the present United States...
Russells
Russell family (Passions)
The Russell family is a middle class African American family living in the fictional town of Harmony on the NBC/DirecTV daytime drama Passions. The Crane family and the Russell family had a feud for a number of years. T.C...
,
Caucasian
Caucasian race
The term Caucasian race has been used to denote the general physical type of some or all of the populations of Europe, North Africa, the Horn of Africa, Western Asia , Central Asia and South Asia...
Cranes
Crane family
The Crane family is a fictional family on the NBC/DirecTV soap opera Passions. Seated at 14 Raven Hill Road atop Raven Hill in Harmony, New England, the wealthy Crane family amassed its fortune during the eighteenth century via the slave trade, amongst other things...
and
Bennetts
Bennett family
The Bennett family is a middle class family of Irish descent living in the fictional town of Harmony on NBC's daytime drama Passions. The Bennetts were on the ruthless Alistair Crane's bad side for years, but they earned Alistair's full wrath in the summer of 2005 when Alistair's granddaughter,...
, and half-Mexican half-Irish
Lopez-Fitzgeralds
Lopez-Fitzgerald family
The Lopez-Fitzgerald family is a fictional working class Mexican-Irish family in the fictional New England town of Harmony on NBC/DirecTV's daytime drama, Passions. The Lopez-Fitzgeralds earned the wrath of Crane patriarch Alistair Crane in the 1980s when Martin Fitzgerald ran off with Alistair's...
— as well as the
supernatural
Supernatural
The supernatural or is that which is not subject to the laws of nature, or more figuratively, that which is said to exist above and beyond nature...
including town witch
Tabitha Lenox
Tabitha Lenox
Tabitha Lenox is a fictional character and one of the main antagonists from the NBC/DirecTV daytime drama Passions. Tabitha has been played by Juliet Mills since the show's debut in 1999. Mills continued in the role when the show moved from NBC to DirecTV's The 101 in September 2007...
.
Created by writer
James E. Reilly
James E. Reilly
James E. Reilly was an American soap opera writer. Known for his work as the head writer of NBC's Days of our Lives and creator/head writer of Passions, Reilly won a Daytime Emmy Award for Outstanding Drama Series Writing as co-head writer for Guiding Light in 1993.Reilly died suddenly in October...
and produced by NBC Studios, the series was subsequently picked up by direct broadcast satellite service
DirecTV
DirecTV
DirecTV is an American direct broadcast satellite service provider and broadcaster based in El Segundo, California. Its satellite service, launched on June 17, 1994, transmits digital satellite television and audio to households in the United States, Latin America, and the Anglophone Caribbean. ...
, which broadcast new episodes airing on its exclusive channel The 101.
You can't give up on Charity, Miguel. Would Leonardo give up on Kate? Would Ross give up on Rachel? Would Bo give up on Hope?

[Kay has second thoughts about being good] Miguel is going to be mine no matter what I have to do! Charity, be damned! As God as my witness, I'll never be good again!

Esme? What kind of name is that? Forgot who I was talking to. To someone named Fancy, Esme actually sounds kind of normal.

Is Ethan really my son? I'm not going to rest until I know for sure. Maybe there's a clue on the Internet.

It's a sad day in America when the Cranes can't subvert government policy.

[Luis and Sam have again accused Alistair of a crime with no proof] You'll have to excuse me. I've heard all of this empty huffing and puffing before.

[to Alistair] Grampy! (repeated line)

[to Ivy] Hi, Mummy! I'm home!

It's hard getting a license when you're underage. Plus, I kept forgetting that the states have speed limits. In parts of Europe they don't, you know.

[Fancy comes to a realization after Alistair's marriage to Theresa] Oh, my God. You're my step-grandmother!"