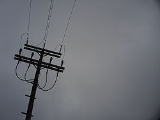 Overcast
Overcast
or
overcast weather
, as defined by the
World Meteorological Organization
World Meteorological Organization
The World Meteorological Organization is an intergovernmental organization with a membership of 189 Member States and Territories. It originated from the International Meteorological Organization , which was founded in 1873...
, is the
meteorological
Meteorology
Meteorology is the interdisciplinary scientific study of the atmosphere. Studies in the field stretch back millennia, though significant progress in meteorology did not occur until the 18th century. The 19th century saw breakthroughs occur after observing networks developed across several countries...
condition of
cloud
Cloud
A cloud is a visible mass of liquid droplets or frozen crystals made of water and/or various chemicals suspended in the atmosphere above the surface of a planetary body. They are also known as aerosols. Clouds in Earth's atmosphere are studied in the cloud physics branch of meteorology...
s obscuring all of the sky. Overcast, written as "OVC" in the
METAR
METAR
METAR is a format for reporting weather information. A METAR weather report is predominantly used by pilots in fulfillment of a part of a pre-flight weather briefing, and by meteorologists, who use aggregated METAR information to assist in weather forecasting....
observation, is reported when the
cloud cover
Cloud cover
Cloud cover refers to the fraction of the sky obscured by clouds when observed from a particular location...
is observed to equal eight
okta
Okta
In meteorology, an okta is a unit of measurement used to describe cloud cover. Sky conditions are estimated in terms of how many eighths of the sky are obscured by cloud, ranging from completely clear, 0 oktas, through to completely overcast, 8 oktas...
s (eighths).
Sometimes clouds can be different colors such as black or white, but the word usually refers to grey. In some cases, it can be impossible to see distinct borders of clouds or the sky may be covered by a single type of cloud, such as
stratus
Stratus cloud
A stratus cloud is a cloud belonging to a class characterized by horizontal layering with a uniform base, as opposed to convective clouds that are as tall or taller than wide . More specifically, the term stratus is used to describe flat, hazy, featureless clouds of low altitude varying in color...
and the whole sky will be a dull white.
Periods of overcast weather can range from a few hours to several days. Overcast weather can also affect people suffering from
seasonal affective disorder
Seasonal affective disorder
Seasonal affective disorder , also known as winter depression, winter blues, summer depression, summer blues, or seasonal depression, is a mood disorder in which people who have normal mental health throughout most of the year experience depressive symptoms in the winter or summer, spring or autumn...
.