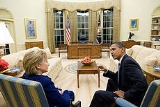 Oval Office
The
Oval Office
, located in the
West Wing
West Wing
The West Wing is the building housing the official offices of the President of the United States. It is the part of the White House Complex in which the Oval Office, the Cabinet Room, the Situation Room, and the Roosevelt Room are located...
of the
White House
White House
The White House is the official residence and principal workplace of the president of the United States. Located at 1600 Pennsylvania Avenue NW in Washington, D.C., the house was designed by Irish-born James Hoban, and built between 1792 and 1800 of white-painted Aquia sandstone in the Neoclassical...
, is the official office of the
President of the United States
President of the United States
The President of the United States of America is the head of state and head of government of the United States. The president leads the executive branch of the federal government and is the commander-in-chief of the United States Armed Forces....
.
The room features three large south-facing windows behind the president's desk, and a
fireplace
Fireplace
A fireplace is an architectural structure to contain a fire for heating and, especially historically, for cooking. A fire is contained in a firebox or firepit; a chimney or other flue allows gas and particulate exhaust to escape...
at the north end. It has four doors: the east door opens to the
Rose Garden
White House Rose Garden
The White House Rose Garden is a garden bordering the Oval Office and the West Wing of the White House. The garden is approximately 125 feet long and 60 feet wide...
; the west door leads to a private smaller study and dining room; the northwest door opens onto the main corridor of the West Wing; and the northeast door opens to the office of the president's secretary.
Presidents generally change the office to suit their personal taste, choosing new furniture, new drapery, and designing their own oval-shaped carpet to take up most of the floor.