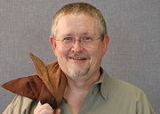 Orson Scott Card
Orson Scott Card
is an American author, critic, public speaker, essayist, columnist, and political activist. He writes in several genres, but is primarily known for his
science fiction
Science fiction
Science fiction is a genre of fiction dealing with imaginary but more or less plausible content such as future settings, futuristic science and technology, space travel, aliens, and paranormal abilities...
. His novel
Ender's Game
Ender's Game
Ender's Game is a science fiction novel by American author Orson Scott Card. The book originated as the short story "Ender's Game", published in the August 1977 issue of Analog Science Fiction and Fact. Elaborating on characters and plot lines depicted in the novel, Card later wrote additional...
(1985) and its sequel
Speaker for the Dead
Speaker for the Dead
Speaker for the Dead is a science fiction novel by Orson Scott Card and an indirect sequel to the novel Ender's Game. This book takes place around the year 5270, some 3,000 years after the events in Ender's Game...
(1986) both won
Hugo
Hugo Award
The Hugo Awards are given annually for the best science fiction or fantasy works and achievements of the previous year. The award is named after Hugo Gernsback, the founder of the pioneering science fiction magazine Amazing Stories, and was officially named the Science Fiction Achievement Awards...
and
Nebula Award
Nebula Award
The Nebula Award is given each year by the Science Fiction and Fantasy Writers of America , for the best science fiction/fantasy fiction published in the United States during the previous year...
s, making Card the only author to win both science fiction's top U.S. prizes in consecutive years. He is also known as an advocate for The Church of Jesus Christ of Latter-day Saints, of which he has been a lifelong practicing member, and as a political commentator on many issues, including opposition to the legalization of
same-sex marriage
Same-sex marriage
Same-sex marriage is marriage between two persons of the same biological sex or social gender. Supporters of legal recognition for same-sex marriage typically refer to such recognition as marriage equality....
.
Card is the son of Willard and Peggy Card, third of six children and the older brother of composer and arranger
Arlen Card
Arlen Card
Arlen Card is an American composer and arranger. He is a Latter-day Saint and is the younger brother of Orson Scott Card. He was, among other interests, actively involved in both basketball and the saxophone during his youth. After serving two years as a missionary for the LDS Church in Chile, he...
.
They are beautiful monsters... And when they live in a network of peace and hope, when they trust the world and their deepest hungers are fulfilled, then within that system, that delicate web, there is joy. That is what we live for, to bind the monsters together, to murder their fear and give birth to their beauty.

Wyrms (1987)
I wonder sometimes if the motivation for writers ought to be contempt, not admiration.

Future on Fire (1991), introduction
If it isn't a wonderful story first, who cares how "important" it is?

Future on Fire (1991), introduction
I had seen the princess and let her lie there unawakened, because the wikt:happily ever after|happily ever after was so damnably much work.

"A Sepulchre of Songs," from The Changed Man (April 1992), ISBN 0-812-53365-8, page 125
The great forces of history were real, after a fashion. But when you examined them closely, those great forces always came down to the dreams and hungers and judgments of individuals. The choices they made were real. They mattered.

"Atlantis," from Keeper of Dreams (2008)
He understood the tone of voice instinctively, as he always had; it was his greatest gift, to know emotions even better than the person feeling them.

Only a fool can't be fooled.

She thinks she's kept me. She would have kept me better if she had let me go now.

I will love you forever, he thought. I am lying, he thought, and this time he was right.

He was growing up. Soon he would be a man. He wondered what that would mean. Surely he could not have more required of him as an adult that had been required of him as a child. There could not be more.