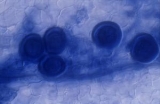 Oospore
An
oospore
is a thick-walled sexual
spore
Spore
In biology, a spore is a reproductive structure that is adapted for dispersal and surviving for extended periods of time in unfavorable conditions. Spores form part of the life cycles of many bacteria, plants, algae, fungi and some protozoa. According to scientist Dr...
that develops from a fertilized oosphere ( union of oogonium and antheridium) in some
algae
Algae
Algae are a large and diverse group of simple, typically autotrophic organisms, ranging from unicellular to multicellular forms, such as the giant kelps that grow to 65 meters in length. They are photosynthetic like plants, and "simple" because their tissues are not organized into the many...
and fungi. Also the result of plasmogamy/karyogamy in oomycetes, which in turn leads to the development of hyphae, then mycelium.