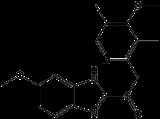 Omeprazole
Omeprazole
(icon) is a
proton pump inhibitor
Proton pump inhibitor
Proton-pump inhibitors are a group of drugs whose main action is a pronounced and long-lasting reduction of gastric acid production. They are the most potent inhibitors of acid secretion available today. The group followed and has largely superseded another group of pharmaceuticals with similar...
used in the treatment of
dyspepsia
Dyspepsia
Dyspepsia , also known as upset stomach or indigestion, refers to a condition of impaired digestion. It is a medical condition characterized by chronic or recurrent pain in the upper abdomen, upper abdominal fullness and feeling full earlier than expected when eating...
,
peptic ulcer disease
Peptic ulcer
A peptic ulcer, also known as PUD or peptic ulcer disease, is the most common ulcer of an area of the gastrointestinal tract that is usually acidic and thus extremely painful. It is defined as mucosal erosions equal to or greater than 0.5 cm...
(PUD),
gastroesophageal reflux disease
Gastroesophageal reflux disease
Gastroesophageal reflux disease , gastro-oesophageal reflux disease , gastric reflux disease, or acid reflux disease is chronic symptoms or mucosal damage caused by stomach acid coming up from the stomach into the esophagus...
(GORD/GERD),
laryngopharyngeal reflux
Laryngopharyngeal reflux
Laryngopharyngeal reflux , also extraesophageal reflux disease refers to retrograde flow of gastric contents to the upper aero-digestive tract, which causes a variety of symptoms, such as cough, hoarseness, and asthma, among others.Although heartburn is a primary symptom among people with...
(LPR) and Zollinger–Ellison syndrome. Omeprazole is one of the most widely prescribed drugs internationally and is available over the counter in some countries.
Omeprazole is combined with the antibiotics
clarithromycin
Clarithromycin
Clarithromycin is a macrolide antibiotic used to treat pharyngitis, tonsillitis, acute maxillary sinusitis, acute bacterial exacerbation of chronic bronchitis, pneumonia , skin and skin structure infections...
and
amoxicillin
Amoxicillin
Amoxicillin , formerly amoxycillin , and abbreviated amox, is a moderate-spectrum, bacteriolytic, β-lactam antibiotic used to treat bacterial infections caused by susceptible microorganisms. It is usually the drug of choice within the class because it is better absorbed, following oral...
(or
metronidazole
Metronidazole
Metronidazole is a nitroimidazole antibiotic medication used particularly for anaerobic bacteria and protozoa. Metronidazole is an antibiotic, amebicide, and antiprotozoal....
in penicillin-hypersensitive patients) in the 7–14 day eradication triple therapy for
Helicobacter pylori
Helicobacter pylori
Helicobacter pylori , previously named Campylobacter pyloridis, is a Gram-negative, microaerophilic bacterium found in the stomach. It was identified in 1982 by Barry Marshall and Robin Warren, who found that it was present in patients with chronic gastritis and gastric ulcers, conditions that were...
.